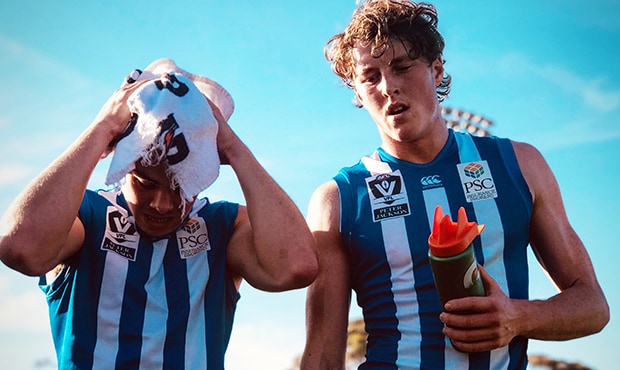 At 197 centimetres and just 82 kilograms, it's fair to say Nick Larkey would have been seen as a long term prospect upon his arrival at Arden Street.
But barely nine months after being drafted in 2016, the agile forward was playing his first AFL game, and ten months later, he's leading the VFL goal-kicking.
While on face value Larkey's wiry stature suggested he'd need time to develop, his immediate success has come as no surprise to his coaches or teammates.
"It gives us midfielders a lot of confidence going forward, using him (Larkey) as a target," VFL captain Chris Jansen told North Media.
"He provides really good one-on-one contests and he's winning a lot of them at the moment. His hands were on-song big time last week, which was excellent.
"On top of that, his conversion has been really good. He kicks really straight when he gets the chance in front of goal, in particular from set-shots, but he also has great hands.
"He took probably three or four contested marks in the first quarter, which set the standard for the rest of his day."
Larkey booted five goals in the win over Box Hill, taking his season tally to 19.
"He's going really well and making the most of the opportunities coming his way," VFL senior assistant coach Ben Dyer told North Media.
"That's the best part of his game at the moment. He's always in the slot and more often than not, he's either marking it or providing a contest for the mid-forwards to get to.
"I mean it's 101 forward play, clearly. But it's about getting in good spots and we're looking to use him."
Accuracy in front of goal was an initial concern for the Roos in the opening rounds of the season.
But North has since bucked the trend, with Larkey at the forefront.
"It (his accuracy) gives us a lot of confidence to go to him if we need to," Jansen said.
"We try not to bomb the ball forward too much, if we need to, but it's good to have him as a target.
"He uses his leap and ability well when jumping at the footy, which is a bit different to some of the other guys. We try to actually deliver the footy the best that we can and give him the opportunity.
"You can see that he's got confidence in his ability, now that he knows what he can do. He just backs himself each week to do it, which is really important at this level."
Dyer believes the youngster is reaping the rewards of the tireless work he puts into his kicking technique.
"It's the difference between having an average game or getting the reward for your efforts," he said.
"Larks' does a lot of work during the week on his accuracy, but sometimes it's hard to replicate the pressure of a game day situation. You can only work on your technique, and he does a lot of work on that.
"He plays to his strengths and he knows how to get off his opponent. As long as the ball use is good, that usually translates into him marking the ball.
"Even if he's out of position, he's really good at making it a contest as well. Key forwards need to be able to get the ball in a number of ways.
"That's something he's continually working on."
If Larkey can continue his current form, it's seems only a matter of time before he gets another chance at AFL level.
"It's a case of continuing to work on his technique in contested situations. Once the strength catches up through the hours he puts in the gym, you hope that down the track that he's the complete package," Dyer added.
"He just needs to keep chipping away, because he works so hard to get separation in contested situations.
"I think he'll be an even better mark down the line when his strength catches up."
Fans are invited to attend Saturday's VFL match against Sandringham at Trevor Barker Beach Oval, with the first bounce at 2.10pm. The game will be broadcast live on Channel 7.
The views in this article are those of the author and not necessarily those of the AFL or its clubs