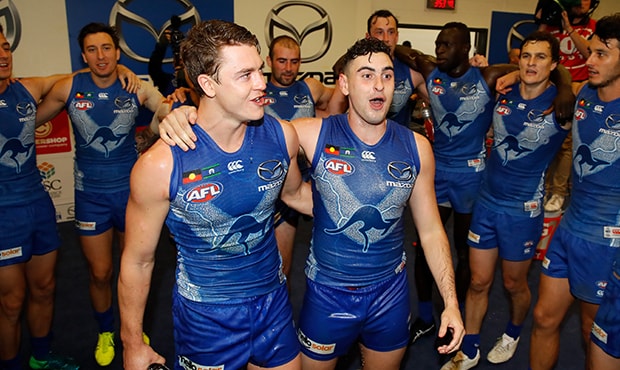 North's clash with Brisbane on Sunday saw two young Roos make their AFL debuts, however, both experienced very different lead-ups to their first game.
For Paul Ahern, he was made aware earlier in the week and was given the opportunity to soak it all up, but for Tom Murphy, it was a whirlwind that saw him lace up his boots just minutes before the opening bounce.
When you get a call-up for your first game, one minute before the bounce...#BeAShinboner #AFLNorthLions pic.twitter.com/SzzbVZsUmT

— North Melbourne (@NMFCOfficial) June 3, 2018
"I was just down here with Daniel Jones (Strength Manager) not really expecting to play," Murphy told North Media.
"I was just eating food and going along normally, then Waitey (Jarrad Waite) came down and had hurt his calf in the warm-up, so it escalated very quick and it was very overwhelming.
"It sort of just happened. I think it was five minutes before the game that I found out, but I think it's probably better to find out that way than leading-up to it and thinking about it."
21-year-old Ahern was the one who experienced the emotional rollercoaster throughout the weekend, before eventually hitting the AFL arena for the first time.
"It was a mixture between excitement and nerves before the game," Ahern said.
"But once I got out there, the nerves went away and I just tried to play my role, and I think I did that today."
Ahern's family friends assembled at Etihad Arena to see the midfielder play, but by chance, Murphy's parents were also in the stands.
Mum Lucy couldn't have been prouder to see her son perform as well as he did on the main stage.
"We thought 'oh well, his time will come'," Lucy Murphy said.
"We're so proud of him that he played well and it was very exciting."
"We were sitting with Neil Connell (Player Development Manager) and he said 'I think Tom's playing' and it was all quite incredible."
The views in this article are those of the author and not necessarily those of the AFL or its clubs