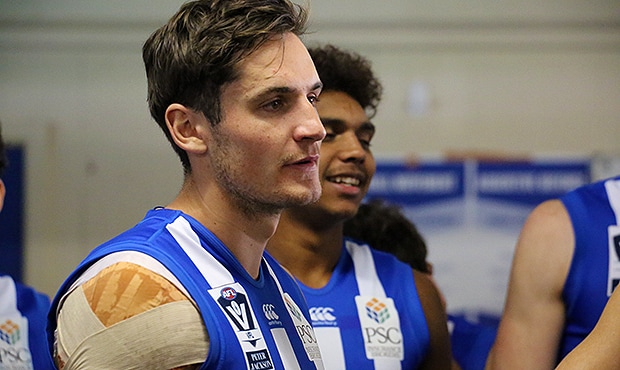 Match result
North Melbourne 19.11 125 defeats Sandringham 9.14 68
In action
AFL-listed
Nathan Hrovat (21 disposals, 4 tackles), Luke Davies-Uniacke (16 disposals), Ryan Clarke (36 disposals, 1 goal), Mitchell Hibberd (35 disposals, 8 marks), Nick Larkey (3 goals, 5 marks), Alex Morgan (22 disposals, 1 goal), Ben McKay (17 disposals, 11 marks), Sam Durdin (10 disposals, 5 marks), Dan Nielson (9 disposals), Will Walker (18 disposals, 4 goals), Braydon Preuss (17 disposals, 75 hit-outs), Josh Williams (10 disposals), Kyron Hayden (16 disposals, 3 goals), Tristan Xerri (5 marks, 1 goal), Gordon Narrier (6 disposals), Cameron Zurhaar (11 disposals, 2 goals) Oscar Junker (9 disposals, 1 goal)
VFL-listed
Nick Rippon (31 disposals), Ty Leonardis (13 disposals), Chris Jansen (23 disposals), Fraser Cameron (19 disposals, 7 marks) Louis Cunningham (22 disposals, 11 marks), Nick Hogan (10 tackles, 1 goal)
Story of the game
North Melbourne has secured back-to-back wins away from home for the time in 2018, offering a polished four-quarter performance against Sandringham.
Brimming with confidence after thoroughly impressive displays against Port Melbourne and Box Hill in consecutive weeks, it wasn't long before the Roos hit the scoreboard at Trevor Barker Beach Oval.
They booted four unanswered goals to open proceedings, starting with explosive prospect Kyron Hayden, before he was joined on the goal-kickers list by fellow youngsters Nick Hogan, Nick Larkey and Will Walker.
The hosts provided resistance in the form of Nathan Smith and Tom Lamb, who opened Sandringham's account with minutes to play in the opening term, allowing the Zebras to draw within 14 points at the first break.
A dominant six goal second quarter is what broke the game open.
With all eyes on leading goal-scorer Larkey, Cameron Zurhaar burst through to ensure that his efforts on goal from last weekend would carry over.
An imposing spread of 11 individual goal kickers proved too much for the Zebras to handle with their defensive unit spread across North's key talls. This allowed Tristan Xerri, Oscar Junker and Brayden Preuss to make an impact in North's forward 50 and put the game beyond reach.
VFL coach David Loader was quick to praise the team, who continued to press despite being well in front.
"I thought we were pretty good just before half-time," Loader told North Media.
"The boys really looked like they settled into their rhythm a little bit. There was some really positive football played today and some areas that we certainly need to get better at.
"It was a pretty good team effort today, without sounding too generic. There wasn't too many players that were down today.
"It's certainly come a long way from where we were a month ago. We've just got to keep working at being as good as we can every week, which is always going to be a bit of a challenge.
"Right now we're going to keep taking the wins, but the process behind all that sort of stuff if what's really important to us.
"While we're having our little wins with the way the players are playing… the scoreboard will probably take care of itself."
Best of AFL
Braydon Preuss
The big man went into Saturday's game expecting a battle of sorts against the competition's statistical ruck leader, Billy Longer.
But with Longer withdrawn just minutes before the first-bounce, Preuss dominated the ruck. He finished with a remarkable 75 hit-outs.
"It's awesome, we just focused on our pressure," Preuss told Channel 7.
"That's probably come for us in the last three weeks. We were a bit rusty at the start of the year, but we've come back alright.
"It helps when [Billy] Longer gets taken out a couple of minutes before the game.
"Besides hit-outs, I've just tried to work on contested marks and stuff I need to work on. The rest will come later.
Will Walker
The humble speedster turned from distributor to provider at Trevor Barker Beach Oval.
Walker booted two majors on each side of half-time, capping off an impressive afternoon with four goals and 18 disposals.
In typically selfless fashion, the 19-year-old deflected any praise towards his teammates.
"That's off the back of the defence of the team," Walker told Channel 7.
"Our back six has been really strong in restricting them and then we moved into the midfield quite quick. I was pretty lucky to get on the end of a couple."
Best of VFL
Nick Hogan
Hogan is proving to be a handy addition to North's defensive half.
After making his debut in North's memorable upset over reigning premiers Port Melbourne a fortnight ago, he has retained his spot for consecutive appearances against Box Hill and now Sandringham.
Hogan's tireless efforts around the stoppages today was clear, tallying 10 tackles, the highest of any playing donning the royal blue and white.
"It's good to always get a win with the boys," Hogan told North Media.
"It's a team effort and everyone's playing really well, it's good to be a part of. In the first couple of games I played as a small defender, just my pressure around the ball to cause turnovers.
"Today [I was] a bit of the midfield, [to provide] speed around the contests and break it open a little bit.
"You just never know whether you're going to play or not. To always get the call-up and be put in the side is always something to be proud of."
Talking points
Hit-out masterclass
If the numbers going into the Round 9 encounter were to be believed, most were expecting a nip-and-tuck challenge between North and Sandringham in the stoppages.
But with Zebras ruckman' Billy Longer forced to withdraw injured on the eve of the first bounce, Preuss was left without an equivalent opposite number.
A dominant display ensued, allowing North to outscore the hosts 87-8 in hit-outs.
Clarke, Hibberd rack up numbers
At any given point this season, there have been upwards of a half a dozen AFL-listed players pushing for senior selection.
With North having a standalone VFL team, part of the development for the Roos' emerging youngsters was having the opportunity to play alongside senior players.
And while VFL-listed trio Chris Jansen, Nick Rippon and Nash Holmes have been standouts for a near month in North's engine room, today it was the efforts of Ryan Clarke and Mitch Hibberd that stood out statistically.
Clarke and Hibberd acquired 36 and 35 disposals each, highlighting the depth of North's list.
Hibberd showed his versatility, often drifting back to provide a clean set of hands. The 21-year-old was amongst the best for marks, taking eight, predominately off the half back flank.
Morgan's milestone
After missing an opportunity to open his account in club colours just prior, the 22-year-old was rewarded for his persistence, making no mistake in his second attempt on goal from outside 50.
"I was a bit surprised actually," Morgan told North Media.
"I missed one the minute before, just to the right and then I pulled that one from where the sun doesn't shine.
"It was nice to get one. Hopefully there's more to come but I'm not sure. I don't kick many goals."
Q3 | Alex Morgan's first goal in a @NorthVFL jumper, and what a good one it is!

Beautiful ball movement from the Kangaroos.#7VFL #PJVFL pic.twitter.com/PPQ2AOCz5Z

— 7VFL (@7VFL) June 2, 2018