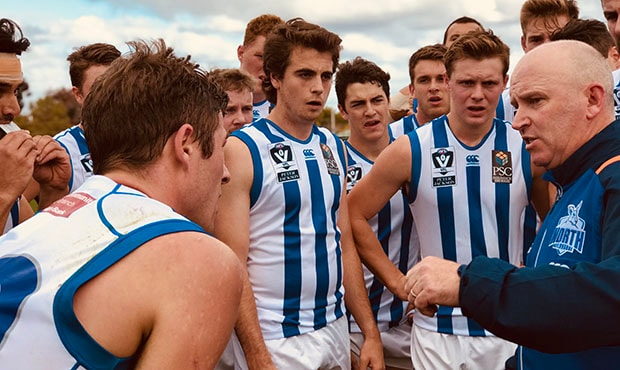 North VFL edged its way into the top eight on the weekend with a convincing 57-point win over Sandringham on Saturday.
North Media spoke with senior assistant coach Gavin Brown about some of the standout performers.
Ryan Clarke | 36 disposals | 9 clearances | 1 goal
"He brought a great attitude after coming back from the AFL. He would have been disappointed, but his attitude was first-class.
"He rolled his sleeves up and full credit to him, it was really great to see.
"We put him into the midfield just to get him back involved, and back where he's played most of his footy. So we've gave him the opportunity to go hunt the footy and get involved."
Will Walker | 16 disposals | 9 marks | 4 goals
"He kicked four and looked really dangerous. He's got some real speed about him and a good motor, so he gets up the ground, can get back, mark it, and can sort of do it all different ways.
"He's got a bit of goal sense about him, a bit of X-Factor so it was really pleasing to see him kick multiple goals like that at VFL level and it would have done his confidence a world of good."
Braydon Preuss | 17 disposals | 3 marks | 75 hitouts
"He just dominated. Probably with Billy Longer going out it made it a bit easier but still you can only ruck against who you can ruck against, and he just clearly dominated.
"He was pulling out all the tricks, gave us first use so it was critical for us."
Ben McKay | 15 disposals | 11 marks | 4 rebound 50's
"Benny was our best defender, just marking the footy, contested marking, intercept marking, it's been a real strength of his and is really helping our defence because he backs himself in to mark it.
"He's marking with real confidence and is in a rich vein of form at the moment, and I think that would have been his sixth really strong game in a row so he's probably been our most consistent player over the past six weeks."
Louis Cunningham (VFL-Listed) | 22 disposals | 11 marks | 3 rebound 50's
"He was really good and got plenty of the footy.
"He's been building every week down back and he's found his niche down there. He's fitted in really well, he's learnt the system really well, defended really well, is getting the footy and looks like he's playing with some real confidence and is enjoying it."
Alex Morgan | 20 disposals | 6 marks | 1 goal
"Morgs has been working on getting a bit more footy and I think the past three weeks, he's averaged 20 touches, so it's been great and he's got real speed and power that we want him to use more.
"For him to get involved in the game and impact the game has been really pleasing and it's growth in his game. He's taken it to the next level, and it's not at the expense of his defence.
"He's been defending really well off half-back, kicked a goal and I've really liked his game."
Individual player stats:
Mitchell Hibberd | 34 disposals | 8 marks | 6 inside 50's
Nick Rippon (VFL-Listed) | 30 disposals | 6 marks | 9 clearances
Chris Jansen (VFL-Listed) | 24 disposals | 3 marks | 10 tackles
Nathan Hrovat | 21 disposals | 3 tackles | 5 clearances
Fraser Cameron (VFL-Listed) | 18 disposals | 7 marks | 5 tackles
Kyron Hayden | 16 disposals | 3 inside 50's | 3 goals
Luke Davies-Uniacke | 15 disposals | 3 marks | 4 clearances
Tyrone Leonardis (VFL-Listed) | 13 disposals | 4 marks | 4 inside 50's
Cameron Zurhaar | 11 disposals | 6 marks | 2 goals
Josh Williams | 10 disposals | 1 tackle |1 inside 50
Sam Durdin | 10 disposals | 5 marks | 3 rebound 50's
Dan Nielson | 9 disposals | 1 mark | 1 tackle
Oscar Junker | 9 disposals | 2 marks | 1 goal
Nick Larkey | 8 disposals | 5 marks | 3 goals
Nick Hogan (VFL-Listed) | 7 disposals | 1 mark | 9 tackles
Gordon Narrier | 6 disposals | 3 tackles | 1 inside 50
Tristan Xerri | 6 disposals | 5 tackles | 1 goal
The views in this article are those of the author and not necessarily those of the AFL or its clubs