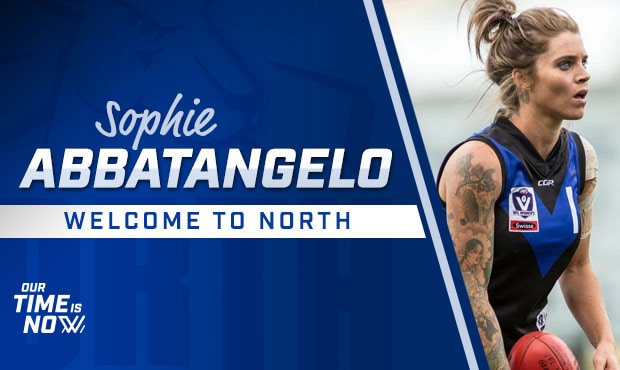 Sophie Abbatangelo thought she was coming to Arden St for a mentoring session with North Melbourne Tasmanian Kangaroos coach, Scott Gowans, but quickly discovered there was much more to the meeting than she could ever have imagined.
Playing for Melbourne University Women's Football Club, Abbatangelo was left speechless when a graphic flashed up onto the computer advising her that she'd been picked up by North for the 2019 season.
"I'm so overwhelmed, I'm very excited," Abbatangelo told North Media.
"I actually had no idea."
Admitting her spirits were low last year after missing out in the Draft, the crafty mid-forward never gave up on her dream to play at the highest level.
"I was a bit bummed about last year but I think I needed that VFL season under my belt, like one more and here I am," she said.
"I've been going through a lot of things that I need to work on like my kicking and things like that.
"Obviously there's so much I need to work on and that's what I've been going through and trying to have the best preseason and find my spot in the team."
Sophie Abbatangelo
167cm - Forward/Midfielder
A clever player with some real x-factor, Abbatangelo will be a threat with her offensive and defensive pressure.
"She is really strong overhead for someone of her size and is clean at ground level, which will give her multiple methods to impact inside 50," North AFLW list manager Rhys Harwood said.
Abbatangelo has shown great character in her personal development this season.
The views in this article are those of the author and not necessarily those of the AFL or its clubs