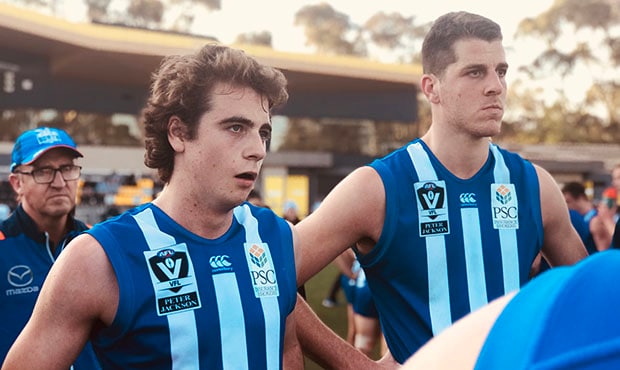 On a day that few things went right for the North VFL side, there were still some shining lights in the loss against Geelong at GMBHA Stadium.
North Media spoke with senior assistant coach Ben Dyer about some standout performers.
Dan Nielson | 12 disposals | 8 marks | 1 tackle
"It was just a typical Dan Nielson game. He was hard to play against, he defended really well with a couple of intercept marks, and used the ball well out of the back half too.
"For a defence that was under the pump all day, he was one that stood out with his attack on the ball, as he always does."
Tristan Xerri | 15 disposals | 6 marks | 15 hit-outs
"He was forced to ruck on his own for most of the last quarter, and he gave us a really good contest in there. He took a number of contested marks forward and around the ground.
"He was a bit of shining light on an otherwise ordinary day."
Kyron Hayden | 13 disposals | 3 tackles | 3 clearances
"Kyron floated in and out a little bit, but in terms of his contested stuff he was really good.
"We had a number of missed tackles on the day, but he was one that stuck his tackles and at least forced a restart or won us the ball.
"His work around the contest was really strong, if we had more doing that it would have been better."
Nick Rippon (VFL Listed) | 31 disposals | 5 tackles | 6 clearances
"Like Kyron, Nick was really in and under. Geelong was getting first use most of the time, but he was able to half the contests a
lot of the time. He was just able to surge the ball forward and get it going our way.
"He never stops trying and keeps going right up until the end every week, so those sort of players on a day like that are pretty handy."
Nick Larkey | 14 disposals | 4 marks | 3 goals
"Geelong defended well, they get a lot of numbers back so Nick was often jumping in outnumbered contests and being sealed.
"He stuck to his guns and a got a few one-on-one looks in the last quarter that he wasn't getting before that. He kicked 3.3 in the end which wasn't a bad return considering the low amount of inside
50s we had.
"He was another one that kept grinding away and made the most of his chances late."
Individual player stats:
Mitchell Hibberd | 29 disposals | 5 marks | 5 rebound 50's
Josh Williams | 27 disposals | 7 marks | 2 tackles
Ryan Clarke | 27 disposals | 3 marks | 10 tackles
Chris Jansen (VFL Listed) | 23 disposals | 3 marks | 5 clearances
Fraser Cameron (VFL Listed) | 22 disposals | 6 marks | 4 tackles
Nathan Hrovat | 15 disposals | 4 tackles | 1 goal
Gordon Narrier | 13 disposals | 2 marks | 3 rebound 50's
Sam Durdin | 12 disposals | 7 marks | 5 rebound 50's
Will Walker | 10 disposals | 4 tackles | 4 inside 50's
Ben McKay | 10 disposals | 3 marks | 2 rebound 50
Louis Cunningham (VFL-Listed) | 10 disposals | 3 marks | 1 clearance
Oscar Junker | 9 disposals | 3 marks | 1 clearance
Nick Hogan (VFL-Listed) | 9 disposals | 5 tackles | 1 inside 50
Taylor Garner | 8 disposals | 1 mark | 1 inside 50
Tyrone Leonardis (VFL-Listed) | 8 disposals | 1 mark | 1 tackle
Braydon Preuss | 6 disposals | 1 mark | 34 hitouts
Luke Davies-Uniacke | 5 disposals | 1 mark | 3 tackles
Michael Close (VFL-Listed) | 2 disposals | 1 mark | 1 tackle
The views in this article are those of the author and not necessarily those of the AFL or its clubs