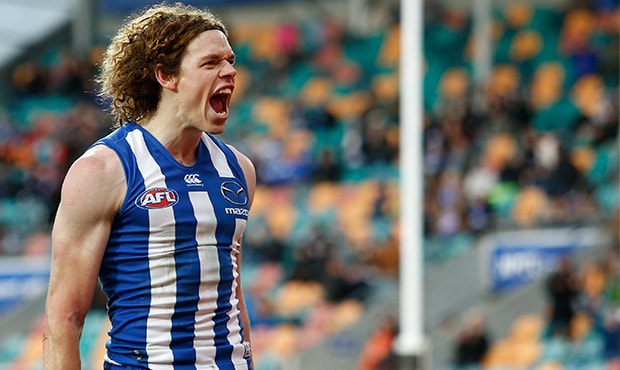 At the start of the season, few outside the four walls of Arden St expected North to be tracking this well heading into the bye.
With seven wins after 12 rounds, North is currently sitting seventh on the ladder, and has already surpassed the number of wins it achieved in 2017.
It's been a season jam-packed with resilient wins and heart-stopping moments and North Media recaps the year to date.
Round 1 - Gold Coast 7.13.55 def. North 5.9.39
It was a season-opener unlike no other with a trip to Cairns made more difficult by the cyclonic conditions.
North adapted to the torrential rain early, but missed opportunities opened the door for Gold Coast which took full advantage of its chances.
Luke Davies-Uniacke and Billy Hartung became Shinboners 1007 and 1008, but were forced to wait for their first win as North players.
GOALS: Ziebell 2, Anderson, Dumont, Higgins
BEST: Ziebell, Macmillan, Thompson, Clarke, Simpkin, Cunnington
COACHES VOTES: 1 - Jack Ziebell
Round 2 - North 13.17.95 def. St Kilda 5.13.43
North secured its first win of the season with a well-earned 52-point victory over St Kilda at Etihad Stadium on Good Friday.
In a scrappy first half, neither side could gain the upper hand and each entered the main break with 2.10.
It was the Kangaroos that hit the ground running in the second half, kicking 11 goals to the Saints' three, with Ben Brown kicking six for the afternoon.
Jarrad Waite was also impressive collecting a match-high 24 disposals and taking 13 marks, while Shaun Higgins and Hartung also had 24 touches in the big win.
GOALS: Brown 6, Waite, Anderson, Turner, Hrovat, Hartung, Jacobs, Cunnington
BEST: Brown, Higgins, Jacobs, Macmillan, Waite, Hartung, Ziebell, Thompson
COACHES VOTES: 10 - Ben Brown 5 - Jarrad Waite, Todd Goldstein 4 - Jamie Macmillan 3 - Robbie Tarrant
Ben Jacobs kicks his first goal since round eight, 2016. #AFLNorthSaints pic.twitter.com/EmOJdkrgfV

— AFL (@AFL) March 30, 2018
Round 3 - Melbourne 18.15.123 def. North 13.8.86
Round 3 wasn't as kind to North as Round 2, with the Roos failing to replicate its red-hot Good Friday form.
Despite an encouraging start in which North kicked the opening four goals, Melbourne hit its straps in the second half, going on to secure a 37-point win.
Majak Daw made his presence felt as a defender, coming in as a late replacement for Robbie Tarrant who suffered some hamstring tightness.
Brown took his season goal tally to 10, while Ben Jacobs locked down on star midfielder Clayton Oliver, restricting him to just 20 possessions.
GOALS: Brown 4, Waite 3, Cunnington 2, Goldstein, Hartung, Simpkin, Ziebell
BEST: Cunnington, Brown, Higgins, McDonald, Dumont
COACHES VOTES: 3 - Ben Cunnington 2- Ben Brown
Round 4 - North 18.8.116 def. Carlton 4.6.30
In its first game at Blundstone Arena, North proved why the Hobart ground was such a fortress, defeating Carlton by 86 points under lights.
The forwardline was firing on all cylinders, with Brown kicking 5, Waite, Ziebell and Shaun Atley kicking 3 and Jed Anderson, Higgins, Hartung and Jy Simpkin all hitting the scoreboard with 1.
Scott Thompson stood tall in defence, taking 15 marks and collecting 25 disposals, working in tandem with Robbie Tarrant who had 9 marks of his own.
The performance of the defensive unit a highlight as it conceded just 30 points, and kept the visitors goalless in the third quarter.
GOALS: Brown 5, Waite 3, Atley 3, Ziebell 3, Anderson, Higgins, Hartung, Simpkin
BEST: Higgins, Brown, Cunnington, Anderson, Hartung
COACHES VOTES: 10 - Ben Brown, 7 - Shaun Higgins, 6 - Shaun Atley, 5 - Scott Thompson, 1 - Jed Anderson, Kayne Turner
Run, Billy, run! 👟#AFLNorthBlues pic.twitter.com/bm3tpxSWFs

— AFL (@AFL) April 14, 2018
Round 5 - North 14.14.98 def. Hawthorn 11.4.70
In one of the most impressive wins of the season, a battered and bruised North outfit emerged 28-point victors.
Much of the lead-up was filled with speculation on Higgins' availability with his wife giving birth on gameday, but luckily he welcomed the arrival of his first child earlier that morning.
However, celebrations were short lived with Higgins and Ed Vickers-Willis suffering concussions in a matter of seconds of each other. Their demise leaving North with just two players on the bench.
The injuries didn't deter the resilient Roos though, with Brown kicking 4 straight, Waite kicking 3.5, Ben Cunnington collecting 30 disposals and laying 6 tackles, while Jacobs added another star to his list of scalps, restricting Tom Mitchell to just 19 touches.
GOALS: Brown 4, Waite 3, Ziebell 2, Zurhaar 2, Atley, Hartung, Dumont
BEST: Tarrant, Cunnington, Jacobs, Ziebell, Brown, Dumont, Macmillan
COACHES VOTES: 10 - Ben Cunnington, 6 - Ben Jacobs, 4 - Todd Goldstein, Robbie Tarrant, 1 - Ben Brown
Rebuild? What rebuild?

@NMFCOffical are in the top four 😲#AFLNorthHawks pic.twitter.com/pOjPW428vk

— 7AFL (@7AFL) April 22, 2018
Round 6 - North 10.9.69 def. by Port Adelaide 15.12.102
North couldn't build on its impressive win in Round 5 against Port, falling by 33 points.
Victims of the Power's intense tackling pressure in the opening stages of the match, the Roos trailed for almost the entire match, failing to match its opponents' intensity.
Brown managed to kick 4 goals and Ben Cunnington had 27 disposals on what was an otherwise disappointing day.
GOALS: Brown 4, Waite 3, Anderson, Simpkin, Davies-Uniacke
BEST: Cunnington, Anderson, Daw, Simpkin, Clarke, Jacobs
COACHES VOTES: 2 – Ben Cunnington
Round 7 - Sydney 9.12.66 def. by North 9.14.68
After a disappointing loss, North bounced-back in emphatic fashion against Sydney at the SCG, defeating the Swans by 2 points.
Mason Wood made his first appearance for the season and had an immediate impact, kicking 4 goals including the sealer.
Star midfielder Higgins found plenty of the ball once again, finishing with 32 possessions, 5 clearances and a goal, while Jacobs had 29 disposals and laid 9 tackles in the nail-biting win.
Despite the elation after arguably the club's most impressive win in recent years, there was one negative to come out of the game with Vickers-Willis reinjuring his posterior cruciate ligament. The incident ruling him out for the rest of the season.
GOALS: Wood 4, Hartung, Higgins, Brown, Simpkin, Cunnington
BEST: Higgins, Jacobs, Wood, Wright, Cunnington, Anderson
COACHES VOTES: 9 - Shaun Higgins, Mason Wood, 2 - Ben Jacobs, 1 - Ed Vickers-Willis
MASON WOOD MY GOODNESS!#AFLSwansNorth pic.twitter.com/pgszvJWdlV

— AFL (@AFL) May 5, 2018
Round 8 - North 11.6.72 def. by Richmond 12.10.82
North was unable to get the better of the reigning premiers, falling just short of the Tigers by 10 points on Mother's Day.
Trailing by 20 at the main break, the Roos fought back in the third term to get within 4 points, and even hit the lead in the final term, before Dustin Martin helped the Tigers to a narrow victory.
The two Bens in the midfield were prolific for North, with Jacobs keeping the reigning Brownlow Medallist to just 16 touches, and Cunnington setting a new AFL record for contested possessions, with 32.
Despite the loss, the home side lost no admirers, pushing an extremely talented outfit to the final siren.
GOALS: Atley 2, Wood 2, Brown 2, Waite 2, Simpkin, Higgins, Macmillan
BEST: Cunnington, Jacobs, Anderson, Higgins, Macmillan, Simpkin
COACHES VOTES: 9 - Ben Cunnington, 3 - Ben Jacobs
Round 9 - North 17.10.112 def. GWS 9.15.69
After a convincing win over the Blues at Blundstone Arena in Round 4, North returned to its home-away-from-home to beat GWS by 43 points.
The typical blustery conditions were evident for much of the game, and it was the home side that played best, in particular hometown hero Brown.
Despite a relatively quiet opening half by his standards, Brown hit his straps in the third quarter, kicking 4 goals to give his side a 23-point lead heading into the final term. Waite wound back the clock and was at his dominant best.
GOALS: Brown 5, Waite 4, Ziebell 2, Wood 2, Anderson, Simpkin, Dumont, Goldstein
BEST: Waite, Brown, Higgins, Goldstein, Anderson, McDonald
COACHES VOTES: 9 - Jarrad Waite, 8 - Ben Brown, 5 - Todd Goldstein, 4 - Jed Anderson, 2 - Ben Jacobs, 1 Jack Ziebell
FIVE GOALS FOR THE QUARTER!

Ben Brown 🔥#AFLNorthGiants pic.twitter.com/u9VJ3zsB2m

— AFL (@AFL) May 19, 2018
Round 10 - Fremantle 8.10.58 def. by North 12.14.86
Many were convinced of North's ability to win at home, but the challenge was to win away, and the side answered it perfectly.
In its first match at the new Optus Stadium, North secured the premiership points, with a 28-point win over Fremantle, becoming the first Victorian team to win at the venue.
Despite slippery conditions North kicked away in second half thanks to accurate goal-kicking from the forwards.
Sam Durdin made his first senior appearance after an impressive stint in the VFL, and played his role well.
GOAL: Waite 3, Wood 2, Brown 2, Simpkin, Jacobs, Turner, Atley, Goldstein
BEST: Jacobs, Waite, Cunnington, Tarrant, Turner, Macmillan
COACHES VOTES: 9 - Jarrad Waite, 3 - Kayne Turner, Jy Simpkin, 2 - Shaun Atley, 1 - Ben Jacobs
Join in the Chorus!#AFLFreoNorth#BeAShinboner pic.twitter.com/alLJxaXWY4

— North Melbourne (@NMFCOfficial) May 27, 2018
Round 11 - North 21.15.141 def. Brisbane 12.15.87
It was considered a 'danger-game' for North given the exciting style of Brisbane's football, but the home team did what it had to do, defeating the Lions by 54 points.
North jumped out to a strong lead in the first quarter and never looked back, leading by 33 points at quarter time, only to extend that to 55 points by the main break.
The start was somewhat a surprise given the drama pre-game, with Tom Murphy a late, late inclusion for Waite who injured his calf in the warm-up.
Paul Ahern was the other debutant and played his first AFL game, after two serious knee injuries, with aplomb.
North had 14 goalscorers, and Higgins recorded a career-high number of disposals, collecting 38, 26 of which came in the opening half.
Anderson was sidelined early with a hamstring complaint.
GOALS: Ziebell 3, Brown 2, Atley 2, McDonald 2, Wright 2, Jacobs 2, Higgins, Wood, Simpkin, Goldstein, Williams, Hartung, Tarrant, Cunnington
BEST: Cunnington, Higgins, McDonald, Ahern, Tarrant, Atley, Goldstein
COACHES VOTES: 10 - Shaun Higgins, 6 - Ben Cunnington , 3 - Luke McDonald , 2 - Jack Ziebell, 1 - Paul Ahern, Todd Goldstein
Whack! 💥

Luke McDonald salutes in style! #AFLNorthLions pic.twitter.com/U4SmJ9WFEh

— AFL (@AFL) June 3, 2018
Round 12 - Geelong 14.12.96 def. by North Melbourne 8.11.59
After a strong run of form, North couldn't keep its winning streak alive, falling short of the Cats at GMHBA Stadium by 37 points.
Once again, Higgins was at his best, collecting 30 disposals and kicking 2 goals, but it wasn't enough to get his side over the line.
GOALS: Higgins 2, Ziebell, Cunnington Dumont, Turner, Wood, Goldstein
BEST: Higgins, Goldstein, Jacobs, Cunnington, Williams
COACHES VOTES: 9 - Higgins
The views in this article are those of the author and not necessarily those of the AFL or its clubs