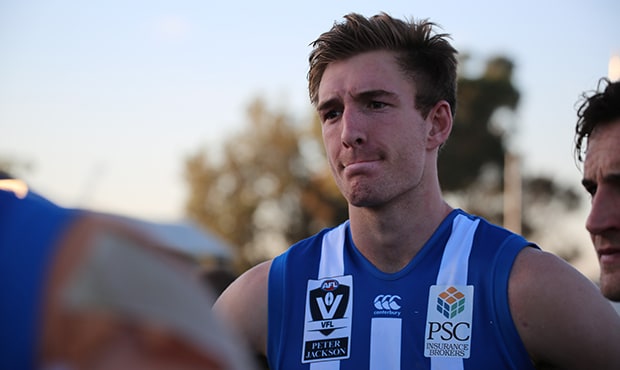 A strong sense of anticipation surrounded the debut of North Melbourne's standalone VFL side in 2018.
Having spent pre-season mirroring the preparations it's AFL side, an exciting and emerging list of both AFL-listed and VFL-listed players have been developed by VFL coach David Loader and his team.
Sitting ninth on the ladder after 10 rounds, this weekend's bye allows North Media to recap an eventful year to date.
Round 2 - North 12.12 84 def. Northern Blues 12.9 81
North recorded its first win as a standalone side, after a memorable fourth quarter surge against the Northern Blues at Avalon Airport Oval.
The Blues came out firing in the wet conditions, pressuring North's defensive line early. Despite trailing at every break, the determined Roos banded together to kick eight of the last ten goals.
Paul Ahern offered poise and versatility, providing plenty of opportunities across the ground. Sam Wright and Sam Durdin were also stand-outs in defence.
GOALS: Close 2, Narrier 2, Larkey 2, Mountford 2, Xerri 2, Jansen, Ahern
BEST: Ahern, Durdin, Wright, Larkey, Hibberd, Close, Jansen, Rippon
Round 3 – Frankston 20.9 129 def. North 17.14 116
It was almost a case of déjà vu for North, which fell just short to Frankston in a thriller at Avalon Airport Oval.
Goals from Nick Larkey, Mitch Rodd and Fraser Cameron helped ease the pressure, but Frankston continued to break away whenever the home side was within reaching distance of taking the lead.
The highlight of the game was a clever passage of play from Gordon Narrier, who spun out of a tackle in North's forward 50 before providing a cheeky overhead handball to Larkey for his third of an eventual four goals.
The Roos briefly hit the lead, but it was short-lived as the Dolphins finished better with three consecutive goals in the dying minutes, sealing the result.
GOALS: Larkey 4, Close 4, Cameron 2, Williams, Rodd, Harper, Holmes, Leonardis, Rippon, Preuss
BEST: Nielson, Close, Holmes, Hibberd, Jansen, Ahern, Durdin, McKay, Cameron, Preuss
Round 4 – North 19.10 124 def. Coburg 9.18 72
North secured its first win on the road against Coburg, in an impressive 52-point win at Piranha Park.
By the time Coburg converted its first major of the afternoon, North had already registered eight consecutive goals, going into the main break with a 50-point lead.
Although the hosts tried their best to reduce the deficit, the game was put beyond reach by Mason Wood, who starred with a four-goal third term, including two within a minute.
The skilful forward put forward his case for senior selection and was instrumental, finishing with six goals.
GOALS: Wood 6, Garner 4, Larkey 3, Close 2, Walker, Press, Jansen, Harper
BEST: Wood, Garner, Larkey, Jansen, Wright, Ahern, Hibberd, Cameron, Xerri
Round 5 – Essendon 19.19 133 def. North 10.7 67
North fell to a rampant Essendon, who ran out as 71-point winners at Windy Hill on an afternoon where the hosts had 14 individual goal-kickers.
Despite trailing by 25 points at the main break, the resolve of North's side shone through, as it rallied to bring the margin to within 10 points in the third term.
North's good work was undone in a ten-minute spell which saw Essendon boot four unanswered goals to put the result beyond doubt.
Consolation goals followed minutes before the final siren from Braydon Preuss and Steve Stroobants, with the latter getting his first on debut.
GOALS: Junker 2, Hrovat 2, Stroobants, Rodd, Holmes, Larkey, Preuss, Jeffries
BEST: Jansen, Holmes, Rippon, Davies-Uniacke, Durdin, McKay, Hrovat, Cameron
Round 6 – Richmond 21.13 139 def. North 7.9 51
Seven unanswered goals allowed a ruthless Richmond outfit to hold pole position from start-to-finish in the VFL curtain-raiser at Etihad Stadium.

Last year's VFL grand finalists ran riot against North, which struggled to get out of first gear.
Speedster Will Walker made the most of a move forward in the second half, setting-up Tristan Xerri for one of his three majors, while also providing some much-needed pace amongst North's talls.

North kicked the final two goals of the game to give credence to the hosts final score, but the result was a mere formality as Richmond's incessant attack reigned supreme.
GOALS: Xerri 3, Walker 2, Garner, Larkey
BEST: Durdin, McKay, Xerri, Walker, Holmes, Jansen, Ahern, Close
Round 7 – North 10.10 70 def. Port Melbourne 8.14 62
An inspired North rebounded from a disappointing run of results, ousting reigning VFL premiers Port Melbourne in a remarkable eight-point upset at North Port Oval.
The form book was thrown out the window as North put together a consistent four-quarter performance, leading from start-to-finish in a determined display.
The midfield battle was unanimously won by a dominant Luke Davies-Uniacke, who brushed aside any resistance with his outside run and ball-use.
A scintillating fourth quarter, topped by another mature defensive display from consistent pair Durdin and Ben McKay allowed North to hold on for a memorable win on the road.
GOALS: Larkey 3, Close 2, Junker 2, Davies-Uniacke, Ahern, Xerri
BEST: Durdin, Davies-Uniacke, McKay, Larkey, Holmes, Hrovat, Hogan
Round 8 – North 16.13 109 def. Box Hill 11.7 73
North recorded back-to-back wins for the first time, upsetting joint ladder-leaders Box Hill.
The Roos put in a repeat performance against the favoured visitors, booting six consecutive goals in a dominant opening.
Versatile big man Nick Larkey looked destined to mark every ball that entered the forward 50, kicking three goals in a commanding display that underlined his worth to North's forward stocks. He finished the day with five goals.
The game took a competitive turn in the third quarter, with the Hawks starting to hit the scoreboard. But the hard work was done, with North prevailing by 36 points.
GOALS: Larkey 5, Zurhaar 4, Garner 2, Narrier, Mountford, Nielson, Walker, Hayden
BEST: Larkey, Zurhaar, Narrier, Ahern, Jansen, Rippon, Holmes, Hayden, Murphy
Round 9 – North 19.11 125 def. Sandringham 9.14 68
North secured back-to-back wins away from home, offering a polished four-quarter performance against Sandringham.
Brimming with confidence after thoroughly impressive displays against Port Melbourne and Box Hill, the Roos showed poise in a one-sided win at Trevor Barker Beach Oval.
A dominant six goal second quarter is what broke the game open.
An imposing spread of 11 individual goal kickers, topped by four from Will Walker, proved too much for the Zebras to handle with their defensive unit spread across North's key talls.
GOALS: Walker 4, Larkey 3, Hayden 3, Zurhaar 2, Clarke, Hogan, Preuss, Jansen, Junker, Morgan, Xerri
BEST: Preuss, Walker, Larkey, Hayden, Hogan, Clarke, Rippon, Hibberd, Jansen, McKay
Round 10 – Geelong 21.11 137 def. North 5.7 37
North dropped premiership points for the first time in a month, going down to Geelong by 100 points in an afternoon to forget.
In what was ultimately a game of three quarters, the hosts were better in all areas.
The Cats were unrelenting with their forward pressure, booting 19 unanswered goals, before North eventually responded through Oscar Junker in the dying minutes of the third term.
Despite the lack of opportunities within its forward 50, North saved face with a four-goal final term.
GOALS: Larkey 3, Hrovat, Junker
BEST: Larkey, Rippon, Hibberd, Clarke, Durdin, Cameron
The views in this article are those of the author and not necessarily those of the AFL or its clubs