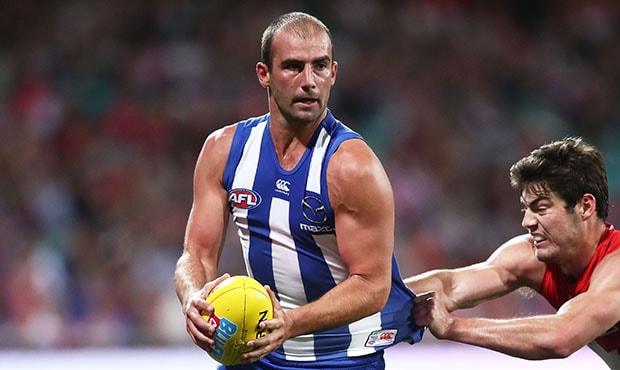 After losing some experience in the midfield last season, North aimed to develop midfield depth to assist the likes of Jack Ziebell, Ben Cunnington and Shaun Higgins.
At the halfway mark of the 2018 season, the club appear to be on the right path, with players returning from injury and stepping-up to a more permanent midfield role.
Stoppage coach Jarred Moore and midfield coach Darren Crocker have cast their eyes over those stars who have spent time in the middle of the ground.
"Cunners is going pretty well, what more can I say?
"He set a new record for contested possessions earlier this year and he's in the top two or three for clearances, so he's been super in that regard.
"He's constantly helping the young blokes too, as well as assisting with our organisation around the contest.
"You know what you're going to get with him every week, and he relishes that aggressive contest." - Jarred Moore.
"Jy's coming along really well in his second year.
"I think people kind of forget sometimes that he's a second-year player.
"He's really developed his game, and is making an effort to bring new things to the table every week.
"He's learning a lot which is good, and that makes him really easy to coach.
"Hopefully I can continue to use him and he can see a bit more midfield time throughout the rest of the season." - Jarred Moore.
"Luke's had to adjust to his role more this year compared to last year, with him playing little bit at half-back and more on the wing during games.
"He'd tell you he probably started the year a little bit slow, but the past four of five games we've seen him get back to what we know he can do.
"I think he's really building towards a big second half of the year." - Jarred Moore.
"He won the Syd Barker Medal last year, so he's getting a bit more attention this year which we've had to deal with.
"He's had some outstanding games this year, his effort has been super for us and he's a very valuable player." - Jarred Moore.
"Jed's been super this year.
"Given the injury setbacks he had during the pre-season, his start to the year has been awesome for us.
"He's another one that attacks the contest really hard and he defends really well, so he's certainly brought something to the side that we have probably lacked in recent years." - Jarred Moore.
"We played Pauly off half-back in the VFL to get him going and get a bit of confidence in himself given he hasn't played for two years.
"He's getting a lot more midfield time now, and when we put him in there we know he's going to get a lot of the footy and use it really well.
"He kicks it really well and makes really good decisions, so hopefully he can build in the next couple of games and we can see what he can do, because when he gets the footy in his hands, we generally keep it and we tend to score.
"Hopefully he can get a bit more confidence and keep himself in the side and build on that in the second half of the year, so he's one to look forward to." - Jarred Moore.
"We've been relatively pleased with his season.
"He's still building, he's still striving to get back to his very best, and even he feels himself that he's not there yet, but that's the aim and expectation that he's putting on himself.
"He's going to continue to work towards that because he hasn't quite got there yet due to a little bit of inconsistency, but that's definitely where he's trying to get to and he's going to be super important for us in the back half of the year." - Darren Crocker
"Froggy's had a terrific year to date.
"He's embracing a new role as a wingman, he hadn't played a lot of wing in the past, so to try and get him into the team we felt we needed to change his role and use some of his strengths.
"His ability to get organised around stoppages, run really good wing patterns, get back and support the defence, show good courage in games as well as challenging the opposition going forward, are his best attributes.
"He's really embraced the role and he's going really well at it." - Darren Crocker
"Benny, as it's been highlighted externally, just gets the best midfielder from the opposition side each week and gets the job done on them.
"His ability to change within games is where he's really grown.
"In the past he's been very task orientated and struggled to shift the focus, but this year he's really shown a great capacity to do that for the sake of the team.
"For example, when Dustin Martin goes and sits forward, he takes the next best midfielder and has the ability to be able to change his focus onto someone else, that might be hurting us even more than the original player he'd been given.
"Also, he realises there's no point in him just getting the job done on the opposition best midfielder if we don't win games of football, so again I think that's real growth in him." - Darren Crocker
"Billy came straight into the side after a strong pre-season and has played every game to date.
"At times he has shown us his ability to run and carry with the football.
"He still needs to work on some aspects of his game in the back half the season to become a more complete player for us." - Darren Crocker.
The views in this article are those of the author and not necessarily those of the AFL or its clubs