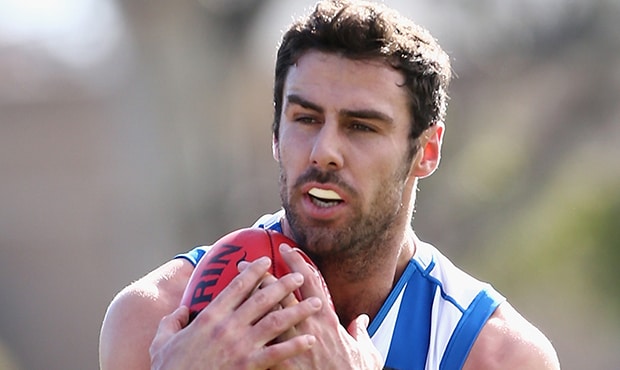 Michael Close will miss the remainder of the season after he suffered a serious concussion a fortnight ago.
The North Melbourne VFL co-captain copped a heavy hit early in the game against Geelong on June 9 in a curtain raiser at GMHBA Stadium, and was taken from the field to be assessed by the medical team.
After he was cleared to go home that afternoon, things took a turn for the worse several hours later when the 23-year-old began to dramatically decline.
"It would have been about thirteen-or-so hours after the game when I started vomiting," Close told North Media.
"I had a rough night and couldn't sleep. In the morning I knew something wasn't right when I vomited again. It wasn't a good sign."
Concerned, Close immediately called the club doctor who ordered an ambulance.
"I was taken to hospital in Horsham for CT scan," Close continued.
"It showed a significant bleed on my brain which, I'll admit, did scare me. My mum is a nurse so she was fully aware of the seriousness of that too. I was a little bit in the dark with the seriousness of that but she was well aware.
"I felt fine after the game, that's why this all came as a shock."
Close said specialists have advised him to modify his normal activities until the end of the year.
"I'm not allowed to do any exercise for the next six weeks," he explained.
"After that period, I can do some light exercise. Providing my next few scans show improvement, I'll be allowed to resume training with physical contact in January 2019."
Close played 27 games for the Lions before being delisted following the 2017 season.
With much more to give, he hoped a spot on North's VFL list under David Loader, who coached him at the North Ballarat Rebels, would bring about a second chance in the AFL.
That's a dream Close is not prepared to give up on, despite this latest setback.
"I'll be doing everything by the book to ensure that I can return to full fitness and get back playing footy again," he stated.
Close is studying agribusiness and recently moved to Geelong. He will remain involved with the VFL team, assisting wherever he's needed.
"I've spoken to "Deeksy" [David Loader] and definitely want to stay involved," he said.
"I'll do whatever the club needs, whether that be at training, on the bench or in the box on game day."
The views in this article are those of the author and not necessarily those of the AFL or its clubs