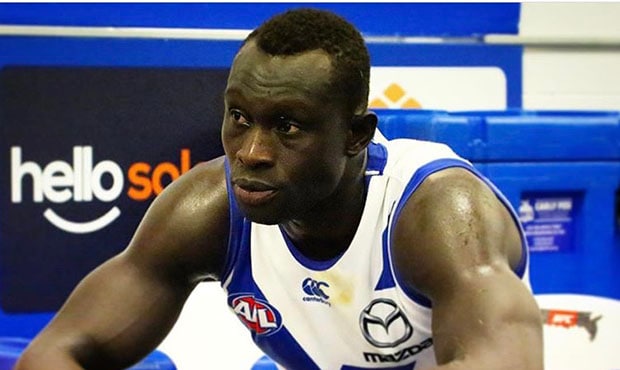 He was a strong contributor in defence during the dying stages of North's win on Saturday night, but for Majak Daw, the victory meant that little bit more.
North's nail-biting two-point win came in the inaugural Harmony Game, a match which holds a special place in the 27-year-old's heart given his South Sudanese background.
"I think for me, the Harmony Game celebrates what our club is about," Daw told North Media.
"We're a community-based club and we use footy to welcome people into our club.
"It was good to get that win, it is that bit more special to me.
"It was nice that Jack (Ziebell) let me lead the team off, I just love playing with the boys and it's nice when you get those wins."
Having struggled with injuries since joining the club, Daw's recent clean bill of health has coincided with a move to defence after stints as a ruckman and forward.
Seemingly becoming more and more comfortable as each game passes, his performance on Saturday night was a driving force behind his side's victory, and he thanks his teammates for that.
"(My teammates) just tell me to back myself in," Daw said.
"It gives me great confidence to be able to do the things that we work on during the week, so they come out in games.
"When I make mistakes (my teammates) just tell me not to worry about it and to keep fronting.
"It didn't open-up in the first half, I didn't know when it was going to open-up for me personally, but I guess it just opened-up when it counted."
The views in this article are those of the author and not necessarily those of the AFL or its clubs