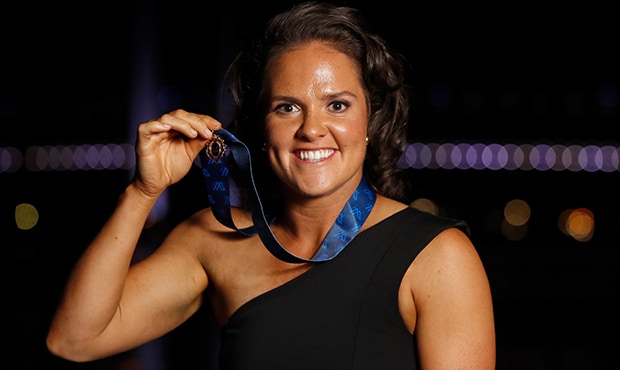 The inclusion of Geelong and North Melbourne in the NAB AFL Women's competition next year provides an opportunity to look at the different ways clubs can build a list from scratch.
The two sides have seemingly taken polar opposite approaches when signing players.
North Melbourne has built the majority of its list around players from other AFLW teams, while Geelong has, on the whole, backed its own VFL Women's players to take the step up to the top level.
The two sides can continue to sign open-aged players who did not play AFLW in 2018 until they reach a list of 23.
North Melbourne
North Melbourne has an alliance with VFLW side Melbourne University dating back to 2010, and that relationship has proven to be a drawcard for some recruits.
'Uni' has trained at North Melbourne's base at Arden Street for several years, and club president (and former player) Laura Kane is the Kangaroos' football operations manager.
The biggest name in AFLW this year, Emma Kearney, is one who joined because of the connection.
In 2018, Kearney helped lead the Bulldogs to a premiership, won the competition's best and fairest award and was the AFL Coaches Association player of the year (alongside Adelaide's Chelsea Randall).
Less than two weeks after the Grand Final, she announced she was going to make the move to North Melbourne.
Classy Brisbane midfielder Kaitlyn Ashmore is another who has returned to her VFLW roots to join Kearney at the Roos.
Other Melbourne Uni signings include VFLW captain Ashleigh Riddell and dangerous small forward Sophie Abbatangelo, both considered unlucky not to be drafted last year.
There's also another layer of complexity in regard to the Kangaroos' list build. Officially known as the North Melbourne Tasmanian Kangaroos, the club has a commitment to listing Tasmanian players and assisting in the development of the game in the state.
To that end, the club signed Brisbane's Brittany Gibson, Western Bulldog Daria Bannister, Melbourne's Emma Humphries and Maddison Smith, who is from Clarence (in the state's south) and hasn't played AFLW before.
The Roos are aiming to have a third of their list (10 players) from Tasmania in their first season and have already signed four.
The Tasmanian contingent will train in its home state, in a similar set-up to Adelaide's dual training camps in Adelaide and Darwin.
Other than that, North Melbourne has been extremely targeted in its approach, making offers to high-quality players from a variety of clubs who play a mix of positions.
The brains trust of the club's AFLW program chose to develop a game plan they believe will be successful in the competition, and target players who suit that, rather than going after the best talent available and creating a game plan later.
Recruiting the likes of Collingwood forwards Jasmine Garner, Moana Hope and Jess Duffin indicates they are planning on a fast-running game with mobile forwards who can easily cover the ground, rather than relying on a big key forward who can out-muscle opponents.
Having one of the premier rucks in the competition in ex-Magpie Emma King tapping it down to Kearney, with Ashmore lurking on the wing, will give opposition teams headaches.
North also signed highly talented young defenders Danielle Hardiman (Carlton), Tahlia Randall (Brisbane) and Jasmine Grierson (Melbourne), with a clear eye to the future.
The Kangaroos' strong recruiting has resulted in a comparatively weaker draft hand than the Cats, with their first pick at 25.
Forwards
Sophie Abbatangelo
Daria Bannister
Jess Duffin
Jasmine Garner
Moana Hope
Maddison Smith
Midfielders
Kaitlyn Ashmore
Jenna Bruton
Brittany Gibson
Emma Humphries
Emma Kearney
Elisha King
Georgia Nanscawen
Jamie Stanton
Ashleigh Riddell
Defenders
Kate Gillespie-Jones
Jasmine Grierson
Danielle Hardiman
Tahlia Randall
Rucks
Emma King
Draft picks
25, 36, 53, 57, 62, 67, 71, 74, 77
The views in this article are those of the author and not necessarily those of the AFL or its clubs