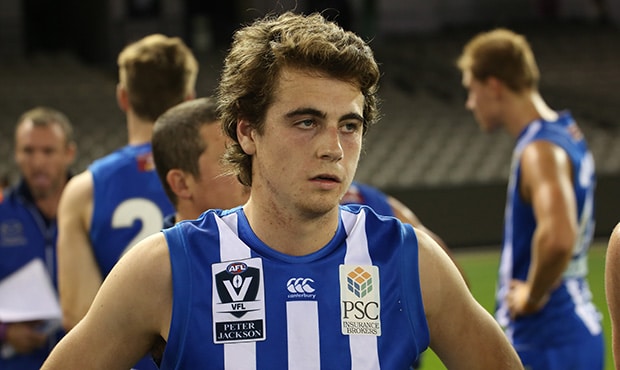 North's VFL team returned to the winner's circle on Sunday, recording a convincing 57-point win over Coburg.
The win ended a two-game losing streak, and kept North in touch with the top eight.
North Media spoke with senior assistant coach Ben Dyer about some of the weekend's standout performers.
Nash Holmes (VFL-Listed) | 31 disposals | 3 tackles | 9 clearances
"He was good, it was just a typical Nash game, he set the scene on the inside.
"Coburg were quite physical on the day, but he was able to stand-up to that in a controlled way.
"He played on the edge which is what we need him to do in those types of games, so having someone like him is pretty important."
Cameron Zurhaar | 25 disposals | 5 marks | 7 clearances
"Cam started forward and we had him there for majority of the first quarter, but then we just felt like we needed a bit more grunt around the ball and in the clearances.
"We were doing OK, but we thought that he could be of better use in the middle.
"He had seven clearances and his patterns around the ground were good too.
"He goes in for some centre bounces but then goes forward, but playing like a true midfielder the other day was good for him."
Braydon Preuss | 18 disposals | 6 marks | 60 hit-outs
"Coburg's number one ruckman was a late out, and it would have been good to see them play against each other again.
"He certainly dominated their second-string ruckman, he gave us first use, he was able to hit the ball out from the contest quite well.
"Pleasingly he took a number of contested marks from bail-out kicks down the line when we just needed a target down there.
"That part of his game was probably more impressive than his stoppage work in my opinion."
Will Walker | 17 disposals | 5 marks | 2 goals
"Will was impressive.
"He's been covering the ground really well, so he's able to get involved up around the ball and get forward, which makes him pretty hard to defend.
"When he makes those early decisions to go forward, he gets on the end of a couple."
Alex Morgan | 24 disposals | 7 marks | 3 inside 50s
"Alex got a bit of the ball which was good.
"As the season's gone on he's been able to find the footy more on the offensive transitions, which is important for those high defenders.
"He generally uses the ball pretty well, so if he can get more of it, he's a good user which means he's able to set things up from the back pretty well."
Individual performances:
Chris Jansen (VFL-listed) | 29 disposals | 5 marks | 7 clearances
Mitch Hibberd | 25 disposals | 3 tackles | 4 inside 50s
Josh Williams | 25 disposals | 2 marks | 4 clearances
Nick Rippon (VFL-listed) | 22 disposals | 3 marks | 8 clearances
Tyrone Leonardis (VFL-listed) | 18 disposals | 3 marks | 4 inside 50s
Jordan Harper (VFL-listed) | 17 disposals | 5 marks | 2 tackles
Fraser Cameron (VFL-listed) | 16 disposals | 7 marks | 4 tackles
Matt Northe (VFL-listed) | 16 disposals | 2 tackles | 2 inside 50s
Kyron Hayden | 14 disposals | 2 marks | 6 tackles
Sam Durdin | 11 disposals | 5 marks | 4 rebound 50s
Daniel Nielson | 10 disposals | 2 marks | 1 tackle
Louis Cunningham (VFL-listed) | 10 disposals | 2 marks | 2 tackles
Oscar Junker | 9 disposals | 1 mark | 1 tackle
Nick Larkey | 8 disposals | 6 marks | 2 goals
Tristan Xerri | 7 disposals | 3 marks | 9 hitouts
Gordon Narrier | 6 disposals | 2 goals | 1 tackle
Patrick McCarthy (VFL-listed) | 6 disposals | 1 rebound 50
Quintin Montanaro (VFL-listed) | 6 disposals | 2 marks | 1 tackle
The views in this article are those of the author and not necessarily those of the AFL or its clubs