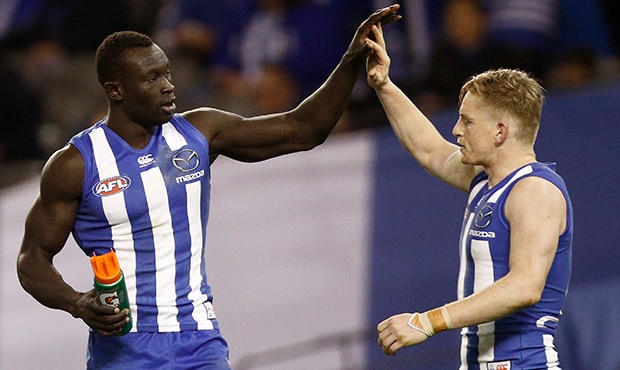 It wasn't one of North's most glamourous wins this season, but regardless of the spectacle, the importance of the four points wasn't lost on the players.
Speaking post-match, it was evident that North's stars were pleased with the win, but knew there were some areas of improvement.
Shaun Higgins - Fox Footy
"It was a grind, especially that first half because we weren't playing well and they were playing really well, and we know their best is good enough.
"It was good to grind the way we did in the second half, we managed to kick away a bit which is a good result."
Watch Shaun Higgins' interview on Fox Footy HERE.
Scott Thompson - Fox Footy
"We had a really good first quarter, in the second quarter their (the Suns) pressure picked up and we were a bit fumbly, but in the second half we picked it back up again, our midfielders and forwards played pretty well.
"It was a good win in the end, we didn't score much in the final quarter, but we kept them to a low score."
Watch Scott Thompson's interview on Fox Footy HERE.
Robbie Tarrant - ABC
"It keeps us in touch with the eight which is awesome.
"They challenged us in parts of the game, but the response from the boys half-time was really good, so we're rapt to get away with a win.
"We defended our forward half really well in the first quarter and probably dropped off in the second quarter, so it was about getting that back up and running."
Listen to Robbie Tarrant's interview with ABC here:
Luke McDonald - Triple M
"We used the ball a bit better in the first quarter, we defended our forward half really well and we just had to get back to getting it in.
"We were probably over-using it a bit in the backline and then just bombing it long instead of using our shorter options.
"Their pressure was good in the second quarter, we heard them getting a bit of a spray at quarter-time so they were always going to respond really well, and they did, so it was just pleasing to get the win."
Listen to Luke McDonald's interview with Triple M here:
Majak Daw's development as a player continues to impress those outside Arden Street, but even those on the inside are impressed by the way he's relished his opportunities.
Majak Daw - Fox Footy
"I feel really comfortable, and it's so good to have guys like Scott Thompson, Robbie Tarrant and Jamie Macmillan.
"My development as a defender has been a smooth transition and those guys have been a big help, so I can go out and play my role knowing those guys will back me in.
"Playing on guys like Ben Brown at training, you get to see how the forwards play, and I've played forward for most of my career, so there's a few things that help me."
Watch Majak Daw's interview on Fox Footy HERE.
Luke McDonald - Triple M
"He's dangerous at both ends of the ground.
"Going back to the start of the year, he really set himself up to play both positions, because he's always been able to kick some goals and then going back, he's learnt the structures and got his confidence up.
"It's good to see him get a run at it, he's had a terrible run with injuries so it's good see him going."
Scott Thompson - Fox Footy
"He brings something that I haven't had before, he can jump, take really strong marks and swing forward.
"He's a great athlete, and when we goes for the ball he's unstoppable.
"He reads the ball really well, and he's doing really well given it's his first year in defence."
Robbie Tarrant - ABC
"Maj has really adjusted to coming down back, and I think it's awesome what he did tonight, flipping forward.
"I think he'll come back to the backine next week, but gives us that flexibility.
"We still probably defend one-on-one more than some other sides, but Maj's strength is that support in the air, and he was doing that really well."
The win keeps North in touch with the top eight, sitting just behind Hawthorn on percentage.
With Sydney, Collingwood and West Coast to come over the next three weeks, the job is only partially done.
Shaun Higgins - Fox Footy
"It's a big three weeks ahead. Sydney are obviously going well, and we can't wait for that."
Robbie Tarrant - ABC
"You've just got to front up each week and try to win.
"It's obviously really close, but that will be the end result of what we do over the next seven weeks.
"We're pretty focused and it is one week at a time.
"We've got a big fortnight ahead, and Sydney next week is going to be a challenge."
Luke McDonald - Triple M
"Our destiny's in our own hands, we're not hoping for results from other teams, if we win we make the eight, and that's why we play footy.
"We've got the Swans next week, it's a massive game, and they're a first-class outfit."
The views in this article are those of the author and not necessarily those of the AFL or its clubs