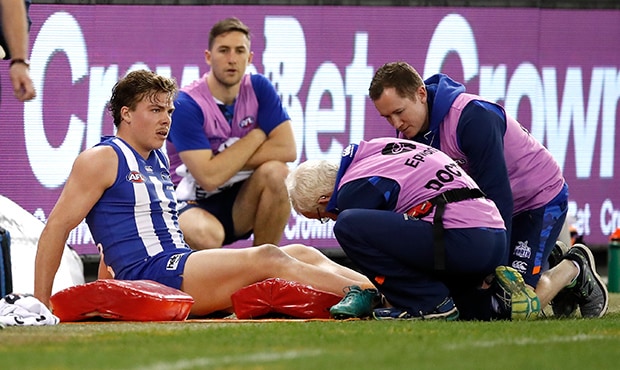 Cam Zurhaar's chances of playing again in 2018 will depend on North's finals run with the powerful small forward out of action for eight to ten weeks with a broken ankle.
The 20-year-old suffered the injury in the third quarter of North's win over the Gold Coast.
"When Cam was unable to put any significant weight through his right, lower leg, our medical team suspected something serious on Sunday," North GM Football Cam Joyce said.
"He wasn't able to take any further part in the game and scans have revealed a small break in his ankle."
Zurhaar had effectively played the unusual role of small forward-cum-ruck against the Suns before his afternoon ended prematurely.
"Cam had taken up the challenge to play in the ruck for us when Todd Goldstein was off the ground resting and it allowed us to keep Majak in defence and Ben Brown forward, so it's a credit to him and says a lot about his willingness to do whatever the team needs," Joyce added.
"It's unfortunate he's now out but if we play some finals, he might be a chance to return so there's still some hope.
"Cam has a very bright future and the challenge for him is to build his fitness and endurance and improve again in 2019."
Zurhaar has played 9 games after making his debut in Round 17 last season.
Injury list:
Declan Mountford - Hamstring – 1 week
Mason Wood - Hamstring – 2-3 weeks
Declan Watson - Knee – 4 weeks
Waite - Calf – 4 weeks
Garner - Hamstring – 4-5 weeks
Hartung - Hamstring – 4-5 weeks
Zurhaar - Ankle – 8-10 weeks
Ed Vickers-Willis - Knee - Season

The views in this article are those of the author and not necessarily those of the AFL or its clubs