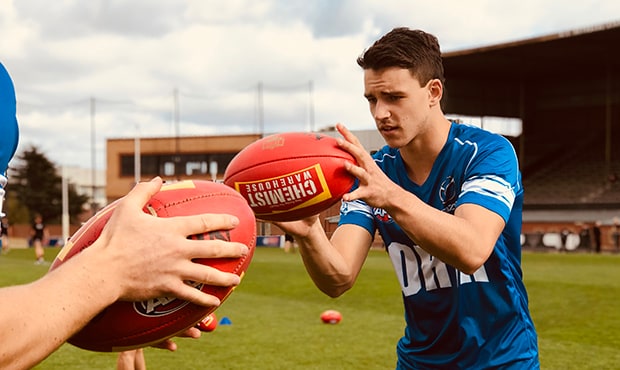 It was a tough day at the office for North VFL on Saturday, battling torrential rain for much of the afternoon.
Despite the loss the Casey, there were some shining lights for North.
North Media spoke with senior assistant coach Ben Dyer about some of the side's stand-out players.
Luke Davies-Uniacke | 18 disposals | 10 tackles | 6 clearances
"He was good.
"I thought out of all the players that went through the middle, he was probably the cleanest.
"He kept his feet, drove with his legs when he got the ball and just handled it a bit better than most.
"Any forward momentum we got from the contest throughout the day was usually through him.
"He was clearly our best inside as well."
Braydon Preuss | 19 disposals | 72 hit-outs | 7 clearances
"Preussy was really important for us in those conditions.
"He had about 70 odd hit-outs, he would have had about ten clearances himself and about 19 possessions.
"In those conditions, if the big boys serve themselves, it's a step in the right direction."
Tom Murphy | 20 disposals | 9 tackles | 2 rebound 50s
"He was good in his first game back from the AFL.
"The defenders were under siege for most of the day because of the quick kicks into Casey's forward half, but I thought he read it off the boot really well and got himself in a good position a number of times.
"On those types of days, the defence is just trying to hold up, and I think he did that as far as he was concerned."
Nash Holmes (VFL-Listed) | 17 disposals | 20 tackles | 5 clearances
"It was good conditions for Nash.
"He posted a world-record number of tackles, and internally with our measures, we had him almost at the 30 tackle mark and at about 90 per cent efficiency as well.
"He was able to hold them up a lot and his repeat tackling efforts were really strong."
Nick Rippon (VFL-Listed) | 12 disposals | 3 marks | 8 tackles
"We had him coming up into the stoppages early-on just to have another number in there, but then we dropped that and had him forward a little bit.
"He was one of the few that got a bit of purchase on his kicks and was actually able to get a bit of territory when he got his hands on it.
"He was up against for most of the day given the wait of numbers around the ball."
Ben McKay | 14 disposals | 5 tackles | 5 rebound 50s
"Benny was pretty good down back.
"We didn't have great shape behind the ball all day to hold them up, but a number of times he was able to organise it and create that quick kick back to him."
Individual performances:
Chris Jansen (VFL-listed) | 20 disposals | 15 tackles | 9 clearances
Josh Williams | 15 disposals | 2 marks | 7 tackles
Mitchell Hibberd | 14 disposals | 6 tackles | 4 rebound 50s
Matt Northe (VFL-listed) | 14 disposals | 6 frees for | 8 tackles
Louis Cunningham (VFL-listed) | 12 disposals | 4 tackles | 3 rebound 50s
Tyrone Leonardis (VFL-listed) | 11 disposals | 7 tackles | 4 inside 50s
Sam Durdin | 11 disposals | 4 tackles | 3 rebound 50s
Oscar Junker | 10 disposals | 2 frees for | 4 tackles
Kyron Hayden | 8 disposals | 7 tackles | 1 tackle
Tristan Xerri | 8 disposals | 10 tackles | 11 hit-outs
Gordon Narrier | 7 disposals | 4 tackles | 1 rebound 50
Matthew Lee (VFL-listed) | 7 disposals | 9 tackles | 1 rebound 50
Quintin Montanaro (VFL-listed) | 6 disposals | 5 tackles | 1 rebound 50
Fraser Cameron (VFL-listed) | 4 disposals | 3 tackles | 1 rebound 50
Nick Larkey | 3 disposals | 2 tackles | 1 rebound 50
Daniel Nielson | 3 disposals | 2 tackles | 1 rebound 50
Nick Hogan (VFL-listed) | 3 disposals | 6 tackles
The views in this article are those of the author and not necessarily those of the AFL or its clubs