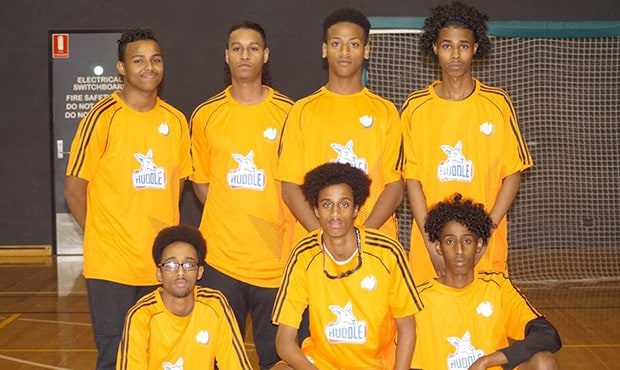 It was late and well after the North Melbourne players had gone home for the day. The offices inside the huge Arden St complex were empty and the lights off.
Yet one area of the precinct was aglow and buzzing with activity.
A crowd of around 100 had gathered at 10pm on the basketball court to watch men and boys playing indoor soccer in the Youth Connect Ramadan Tournament.
Taking place throughout Ramadan, the tournament involved eight teams of Muslims aged 18 to 30.
Organized by AMSSA (Australian Muslim Social Service Agency) Youth Connect, the tournament was supported by North's award winning community-not for-profit, The Huddle, and the City of Melbourne.
For Yasac Abdullahi, the organizer of the tournament, sport is a great way to celebrate and embody the qualities that are so important during Ramadan while also building community.
"The main objective of this game was to remove the barriers blocking our community's ability to be united as one," Abdullahi told North Media.
Ramadan is celebrated by Muslims worldwide who fast from dawn to dusk to commemorate the first revelation of the Quran to Muhamad and celebrates harmony, friendship, acts of kindness, and forgiveness.
Abdullahi has created something the community can enjoy while encouraging important social interactions.
Anyone witnessing the tournament would agree that it was a great way to bring the community together. While teams of young men played, men of all ages attended every night to watch, support, and cheer on their friends.
Abdullahi hopes to have the tournament again next year to continue bringing together the Muslim community.