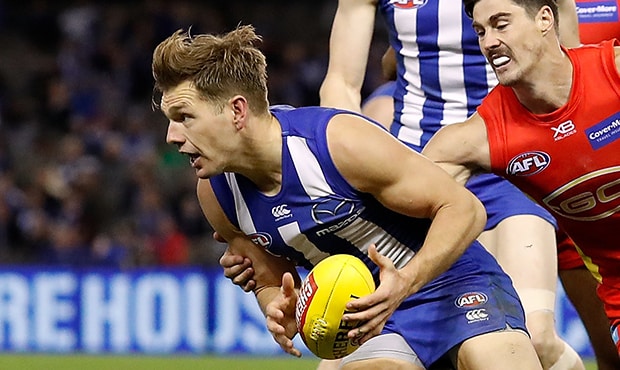 If it wasn't for his teammates, Shaun Higgins would be battling harder with the added attention he's been receiving from the opposition over the past two seasons.
The star midfielder has been on the end of his fair share of hits, bumps and off the ball bruises in recent times, but isn't too sure why.
"I think teams go out to try and rough the feathers of players from the opposition," Higgins said on AFL 360.
"(For) a couple of weeks, I've clearly been the target of the opposition. I'm lucky I get a bit of help from the people around me."
On six occasions, Higgins has been listed as the "victim" on the Match Review Officer's charge sheet; the most of any player in the competition. On Sunday, Suns' co-captain Steven May hit Higgins in the stomach, causing him to fall to the ground. The cheap shot cost May a $2,000 fine.
Most consider Higgins a lock for the All-Australian team and that's part of the reason he's being targeted according to Ben Brown.
"I think he has just been going so well," Brown told SEN.
"Obviously he has been targeted by opposition teams and tagged a lot, but I think the thing that Scotty (Brad Scott) has come out and said, and that we've all come out and said is, Higgo has gone through tags better than anyone this year.
"He has managed to be able to perform. I think that says a lot to his character and the way he goes about his football.
"He has been copping a few whacks along the journey but he has been able to perform outstandingly well."
The ultimate professional, Higgins said he'd sought advice from North tagger Ben Jacobs.
"I sat down with him about five weeks ago, just over a coffee, we ended up speaking for over an hour," Higgins said.
"Just little things, he's been able to play on some of the greats of the competition. He doesn't get beaten too often, but when he has, he's said this is the way the players go about it, so he's been a great help.
"(I've) learnt a lot and got a lot of help around me, and players around me."
The views in this article are those of the author and not necessarily those of the AFL or its clubs