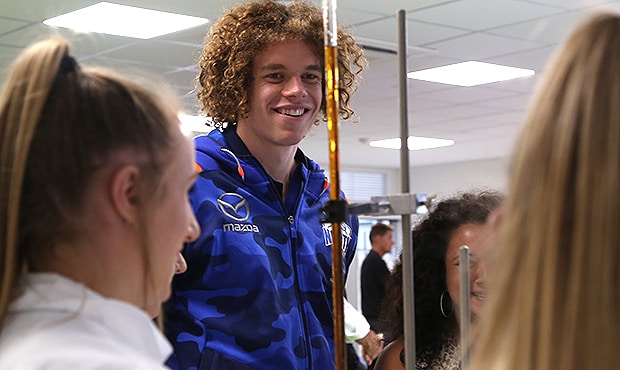 The North Melbourne Football Club's award-winning community not-for-profit arm, The Huddle, continues to score big after launching its online program of teaching resources, GOAL!.
Since its inception in February, GOAL! has seen an increase in enrolment with positive outcomes from schools across Tasmania and it's about to go international.
20 educational institutions are currently using GOAL!; 15 in Tasmania and five in Victoria. By the end of the year The Huddle anticipates that number to almost double, and by June 2020 GOAL! will have reached 100 Tasmanian Schools and nearly 30,000 students.
Bayview Secondary College teacher, Tullia Chung-Tilley, has been using GOAL! in her classroom for several months, and has noticed the positive impact on her Year 10 students.
"It was obvious that students were engaged with this inter-disciplinary unit from the North Melbourne Football Club," Chung-Tilley told North Media.
The most recent GOAL! segment focused on 'My Health, and My Community'.
"Young people need to be healthy in order to make positive choices in their lives and in order to change their societies and communities, this unit emphasized that."
Adrian Eberle, another teacher at Bayview Secondary College, agreed GOAL! had been a success.
"Students enjoyed the variety and nature of the individualised and personalised assessment tasks. The inter-disciplinary delivery for the 'My Health, My Community' unit allowed students to make connections between the different curriculum areas," Eberle said.
It wasn't just the students that enjoyed GOAL!.
"Staff involved in the delivery of the unit enjoyed the opportunity to work together and deliver a cross-curriculum unit," Eberle added.
Besides making waves in Tasmania and Victoria, GOAL! is positioned to make a global impact.
Of recent note, GOAL! has joined the Sport and Stem Alliance, an international coalition of like-minded, leading global organisations driving innovation in STEM education through sports.
Positioning GOAL! amongst other leading organizations such as the San Francisco 49ers, ESPN, the NBA and Chelsea Football Club opens up more opportunities of shared learning and collaboration.
GOAL! will be the first Australian-based program to join the Sport and Stem Alliance and hopes to offer a unique insight into how Science, Technology, Engineering, Arts and Mathematics (STEAM) can be taught through sport to schools via online platforms.
The Tasmanian-based program is designed by teachers for teachers using an innovative and engaging approach. Utilising the real-world career stories of sporting industry professionals, the program will assist teachers in encouraging students to engage in STEAM.
The Huddle received a major (three year) grant from the Tasmanian Community Fund (TCF) to work in partnership with the Beacon Foundation to develop and deliver GOAL!. The independent community funding body was established following the sale of the Trust Bank in 1999 to give back to the community via proceeds from the sale of a community asset. Since that time the TCF has allocated approximately $58.6 million to approximately 1700 state wide projects. All GOAL! teaching resources are aligned to the Australian Curriculum and The Department of Education Tasmania's My Education career education framework.