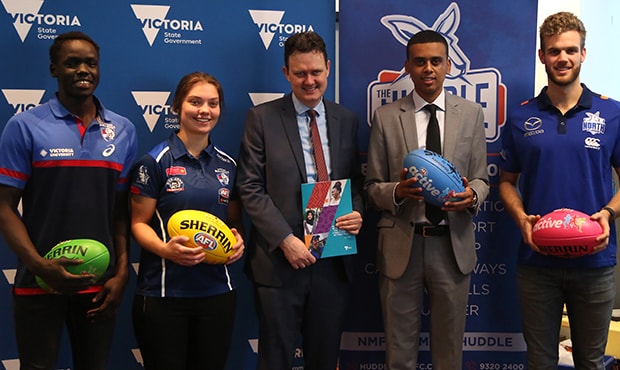 The North Melbourne Football Club's award-winning community not-for-profit, The Huddle, has received a $112,000 grant from the State Government for its ground breaking African Youth Mentoring Program.
North players will have the opportunity to come together with young people from African backgrounds to exchange knowledge, culture, and ideas to support leadership outcomes in young people.
The program builds off various other initiatives led by The Huddle, offering support to young people from African backgrounds with the potential to scale up to engage and empower thousands of young people across Victoria and the wider Australia.
The grant was a follow-on to the African Communities Action Plan, which aims to build inclusive communities, improve outcomes, and create opportunities for Victorians of African heritage. The $112,000 allocated to The Huddle was part of a larger $8.6 million funding boost.
Robin Scott, Minister for Multicultural Affairs, stressed the government is working hard with Victoria's multicultural communities to make positive change and combat the negative portrayals of African communities in the media.
"We're working with our proud multicultural communities to make Victoria stronger, safer and fairer," Scott said.
"The $8.6 million in new funding will go a long way to implementing many of the priorities of the Action Plan – a comprehensive, long-term strategy to address a wide range of issues affecting Victorians of African heritage."
In attendance for the announcement was North defender Ed Vickers-Willis, who regularly volunteers his time to help young people through The Huddle's study support and leadership programs.
"I think this program has great potential, and it's important for sporting clubs and players to use their influence to impact the community in positive ways," he told North Media.
North GM of Community Engagement, Cameron McLeod, agreed.
"Here at The Huddle, we help people learn, grow, and belong. This funding will help African young people and North players learn about each other's cultures, grow into leaders and feel a stronger sense of belonging through a new and innovative mentoring model," McLeod said.