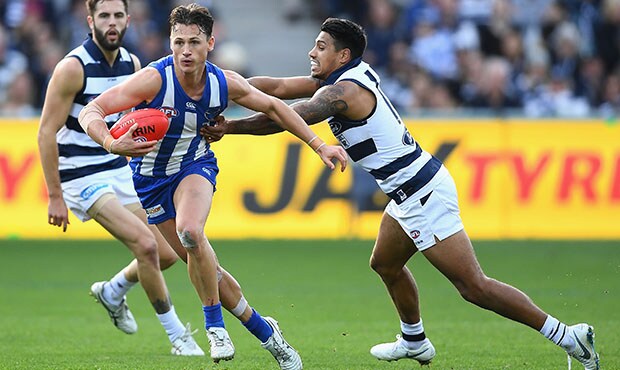 It's a role that rarely gets the credit it deserves, one that can go a long way in securing the win for your team, but one very few fully understand.
The run-with role has been played to perfection this season by North's Ben Jacobs, who has minimised the impact of some of the game's most exciting players.
Dual premiership player, two-time Syd Barker Medal winner and AFL Hall of Fame Member Anthony Stevens was a stand-out tagger during his playing days, and knows the dedication Jacobs needs to do his job to an elite standard.
"It's actually a compliment that you get asked to go on the best of the best," Stevens told North Media.
"The reason you're running closely with a player is because they're in form and they have a good football brain.
"If you can keep on top of them and be one step ahead, you can have an impact on the game as well, and that's what Ben does."
A player who always aimed to get the best out of himself, Stevens believes the mental fitness of the tagger is the number one attribute needed to achieve success.
"It's like being a defender, you've got to be totally on your game the whole time because you need to be reactive to what your opponent is doing," he said.
"You've got to make sure that you're one step ahead in terms of his thought pattern and that can get quite draining.
"You've got to train your brain so you can concentrate for 100 per cent of the game, because if you take your foot off the pedal for one second, these guys are extremely dangerous and will hurt you.
"For example Dustin Martin can kick a few goals in five minutes if you have a lapse.
"That concentration is an ability that you need to have, or train yourself to have, so mentally it can be a draining experience."
The North Team of the Century ruck rover is of the opinion that preparation is key before each game, and Jacobs' performance is no fluke.
"At the end of the day it's about understanding the opponent that you're playing on," Stevens said.
"It's about watching their tapes and learning the pros and cons of their game.
"You need to learn whether they turn to their left or turn to their right, whether they burst through packs or whether they'll take you into the packs and then sneak out the back. There's plenty of things that you need to understand, so it's about studying the opposition.
"Benny would be getting to a stage now where he's played on his opponents a lot, so he'll have a great understanding."
Regardless of the amount of work a player puts into his direct matchup, Stevens believes the assistance of 21 teammates is just as crucial.
"To be the best the player you can be, you've got to have support around you 100 per cent of the time," he said.
"It doesn't matter if it's midfielders, defenders or forwards, everyone's got a role that they need to play, and if they do that, it's a big help.
"You're only as good as the team around you."
In Stevens' opinion, Jacobs is not a tagger and should be considered as a run-with player, given his ability to have an offensive presence.
"A tagger in my eyes is someone who is solely worried about their opponent and isn't worried about getting possessions or the football," he added.
"A run-with player is someone who follows an opponent, quells their influence on the game, but still actually get the ball themselves.
"I always had the aim of keeping him under this average and making sure those possessions he gets doesn't have and impact in the game, and I'm sure Benny's the same.
"If you can keep on top of them and be one step ahead, you can have an impact in the game as well, and that's what Ben does.
"He puts the pressure on his opponent the whole time, but when the ball's there he actually gets it, and with the help of his teammates, he can put some added pressure on his opponent by kicking a goal or two."
The views in this article are those of the author and not necessarily those of the AFL or its clubs