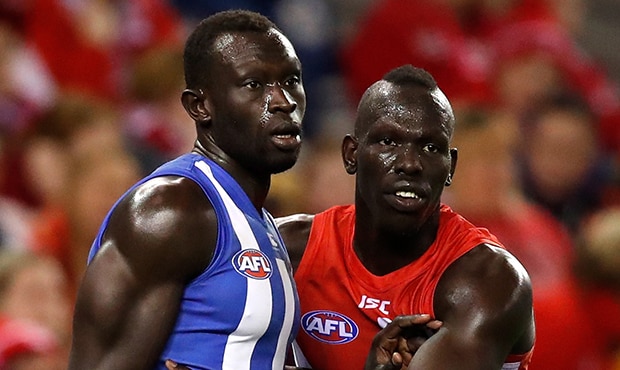 It was a thriller at Etihad on Sunday but the game will be remembered for much more than just the score line in the years to come with Majak Daw and Swan, Aliir Aliir going head-to-head in a match-up for the ages.
While Aliir Aliir kicked the match-winner, Daw's move back to the forward line yielded four clutch goals in North's narrator six-point loss.
"I've got a lot of respect for Aliir. Fellow South Sudanese guys, we're pretty close mates and when I lined up on him, I suppose I'm a competitive person and he's a competitive person," Daw told foxfooty.com.au.
The pair's lead set to influence Africans wanting to play the game at the highest level.
"We both want to do well for our clubs, but at the same time we know the role we play for our community," Daw added.
"I think if there were any African kids watching out there today, that was an example of it doesn't matter where you come from, you can play at the highest level, you can do anything in this country."
Aliir said he's always looked up to Daw.
"He was the first Sudanese to get drafted," Aliir told Channel 7 after the game.
"When I was in Queensland playing, he set the tone for the rest of the Africans coming through. I am sure the respect back home, everyone looks up to him. And he played well today, he was outstanding."
After cementing a spot in the Kangaroos' side as a defender, Daw was thrust back into the forward line through necessity with injuries to key players like Jarrad Waite and Mason Wood.
"I think this year has been a massive learning curve for me. In terms of a bit of maturity and playing different roles," Daw said.
"'Browny' (Ben Brown) has been good this year and he's leading the Coleman and he's our focal point up forward, so today my role was to just help him out and free him up a little bit.
"I got on the end of a few so it's a good feeling, but I'm not too sure where I'll play next week. I'll just keep playing where the coach tells me to play."
North coach Brad Scott said he was proud of Daw's ability to adapt under pressure.
"I've always been proud of him. He's a terrific person," Scott said.
"Sometimes it's easy from the cheap seats and he's not an inconspicuous person, he can't just blend in to the crowd. You look at his sheer size and physique, he's always going to garner a fair bit of attention. But he's a very down to earth guy who has worked really hard to create his opportunity.
"I suppose the disappointing thing is that I would've loved to have got him earlier and had him playing AFL footy earlier in his life than when he started. He's been just fantastic, we're really pleased for him.
"Now it's a good problem to have, do we play him in the ruck, forward or back? He has played I would say, very good footy in all of those positions."
The views in this article are those of the author and not necessarily those of the AFL or its clubs