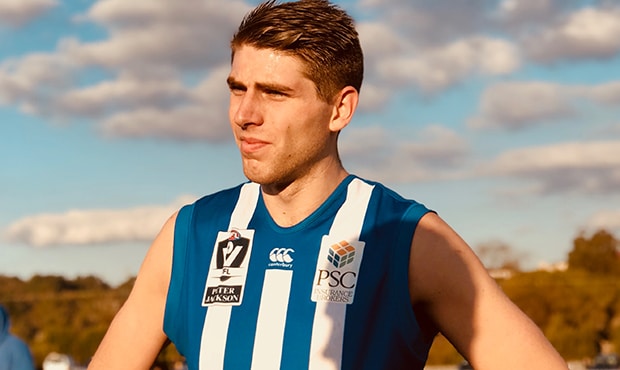 Patience has been the key for VFL-listed player Lachlan Mirams, who was rewarded for his persistence with a debut on Saturday.
The 24-year-old was a late addition to the side that played against Richmond at Holm Park last Saturday, receiving the news just hours before the first bounce.
"I got the call-up on Saturday morning," Mirams told North Media.
"I've been an emergency for a couple of weeks and I was hoping that my opportunity was close. I definitely didn't see that call coming on the morning of the game.
"I was actually getting ready to play for my local team when the call came through. I didn't expect it, but I was extremely excited at the same time."
For Mirams, the journey to his VFL debut has been an extensive one.
The road less travelled has taken the towering forward to several clubs, including Frankston.
"It was a really good feeling to finally be able to say that I've played a VFL game for North Melbourne," he said.
"It's a huge honour and a feeling I'll never forget for the rest of my life.
"I spent three years at Frankston and didn't get a game. They later dissolved, so I went back and played local footy for a year at St Bedes in Mentone.
"It was great to get another opportunity at the VFL, which is why I'm here."
If pulling on the royal blue and white wasn't memorable enough in itself, Mirams added to the milestone appearance by booting a goal.
"It's a bit of a blur, the whole day went quick," he said.
"There was a scramble at the top of the forward 50 and I think 'Rippo' (Nick Rippon) got a quick kick forward. I remember seeing the footy up high in the air and I thought I'd have to attack it at its highest point.
"Luckily enough, I was able to take a good mark. It was only 15 or 20 metres out in front, I just went back and took my time. I slotted it, which was a good feeling.
"All of the boys got around me, which was great."
Having secured a maiden game in the North colours, Mirams is now targeting continuity and is looking to nail down a spot in the forward six.
With an abundance of knowledge at his disposal in the form of his AFL-listed peers, he's taking advantage of the resources at Arden St.
"The coaching staff have told me to keep working hard," Mirams explained.
"They want me to keep doing all the right things at training. The guys have been really complimentary, noticing that I've been doing a lot of those things.
"A lot of the AFL talls have been really helpful, reminding me to keep biding my time and that the opportunity will come. I've just been sticking at it and the time did come.
"I've loved my time at the club. It's really easy to be motivated when you're around a great group of guys. It makes it enjoyable to come to training and the coaches are easy to talk to.
"If I do get a game this week, there would be a bit of irony. Especially coming up against Frankton, where I used to be on the list. That'd be a nice feeling.
"I'm going to work hard and try to be a focal point going forward. I'd love to hold my spot."
Fans are invited to attend Sunday's VFL match against Frankston at Skybus Stadium, with the first bounce at 12.00pm.

The views in this article are those of the author and not necessarily those of the AFL or its clubs