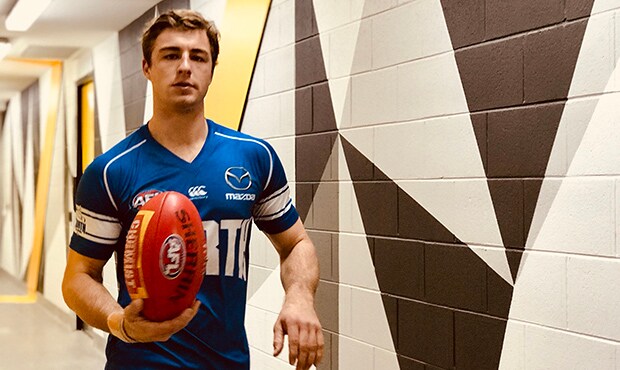 Despite North VFL falling short to Williamstown on the weekend, there were still some takeaways from the game.
North Media spoke with senior VFL coach David Loader about some of the stand-out performers.
Nash Holmes (VFL-listed) | 29 disposals | 5 tackles | 5 clearances
"Nash always tries, the kid doesn't know how not to try.
"He's been doing some incredible heavy lifting for us.
"He's been a super addition to our group because he brings a real hard edge.
"What people don't know about Nash that he's only a kid himself, he's 20-years-old.
"He's working really hard to sharpen up in some areas he's a little deficient in, but he's doing a really good job."
Luke Davies-Uniacke | 23 disposals | 4 tackles | 8 clearances
"He was really good.
"He did some stuff that made you realise why he was taken with pick four in the draft.
"It's a little bit about doing that on a more consistent basis for him, but on the weekend he was influential at a lot of stoppages.
"For Luke, it doesn't have to be a million miles per hour and he doesn't have to play every week at the minute, but he's just got to get to contests when he can and he's learning a lot about himself as a player.
"We're seeing it come out in the way he plays.
"His intensity was very good especially in the second half."
Nick Larkey | 14 disposals | 11 marks | 5 goals
"He was super on the weekend.
"He had a reasonable match-up, but at VFL level, he looked levels above the competition.
"He played the same role he's played all along, but we literally couldn't get it into him.
"I said to the boys, that if we could get the ball, we'd score. "
Daniel Nielson | 11 disposals | 8 marks | 6 rebound 50s
"Dan was really good.
"He marked the ball when it came into him, and he made it super hard for his opponent in one-on-one contests.
"He gave away a couple of free kicks that I thought were stiff, but his ability to play really tight, uncompromising footy on decent players is at a high level.
"The past two weeks he's been on two good players, and he's done a really good job on them both."
Individual performances:
Chris Jansen (VFL-listed) | 25 disposals | 5 tackles | 5 clearances
Mitchell Hibberd | 22 disposals | 6 marks | 3 tackles
Matt Northe (VFL-listed) | 22 disposals | 2 marks | 3 tackles
Nick Rippon | 19 disposals | 3 marks | 4 clearances
Tom Murphy | 14 disposals | 3 marks | 6 tackles
Fraser Cameron (VFL-listed) | 14 disposals | 3 marks | 1 tackle
Ben McKay | 13 disposals | 4 marks | 2 tackles
Oscar Junker | 13 disposals | 4 marks | 2 tackles
Louis Cunningham (VFL-listed) | 13 disposals | 3 marks | 4 rebound 50s
Braydon Preuss | 11 disposals | 3 marks | 43 hit-outs
Gordon Narrier | 11 disposals | 3 tackles | 1 goal
Nick Hogan (VFL-listed) | 10 disposals | 2 marks | 3 rebound 50s
Steve Stroobants (VFL-listed) | 10 disposals | 4 marks | 2 rebound 50s
Quintin Montanaro (VFL-listed) | 9 disposals | 1 mark | 2 clearances
Tyrone Leonardis (VFL-listed) | 8 disposals | 2 marks | 3 inside 50s
Koe Ngawati (VFL-listed) | 7 disposals | 1 tackle
Tom Hotchin (VFL-listed) | 6 disposals | 5 tackles | 1 inside 50
Jordan Mangan (VFL-listed) | 6 disposals | 2 marks | 1 tackle
Lachlan Mirams (VFL-listed) | 6 disposals | 1 mark | 25 hit-outs
The views in this article are those of the author and not necessarily those of the AFL or its clubs