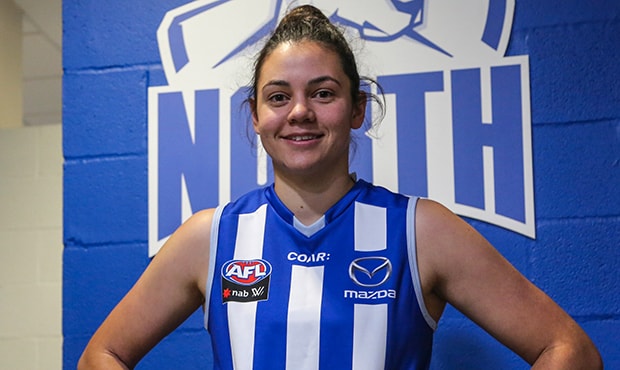 Danielle Hardiman has been named to take on the Casey Demons this weekend after being rested against Collingwood before last weekend's bye.
The hard-nosed defender will be supported by AFLW listed Emma Humphries, Sophie Abbatangelo, Katherine Gillespie-Jones, Ash Riddell and Kaitlyn Ashmore.
Through the midfield, potential number one draft pick Madison Prespakis, will look to build on an impressive outing against the Pies.
Spectators can also expect to see a new face in Tasmanian prospect Libby Haines. Haines has been provided an opportunity under the club's partnership with the TSLW (Tasmanian State League Women), which allows Tassie talent to gain exposure.
Elite midfielder Emma Kearney will be rested, while Jas Grierson is out after injuring her knee.
Elsewhere, Jenna Bruton, Jas Garner and Jess Duffin will line up for Williamstown, while Emma King will run out with Richmond.
Georgia Nanscawen will push for return in the WAWFL for the Swan Districts, playing in its first final.
Britt Gibson, Jamie Stanton and Tahlia Randall are also playing finals this week for Wilston Grange in the QWAFL, while Maddy Smith will feature in the TSLW with Clarence.
Game info:
Casey Demons v Melbourne Uni
Round 14 – 11/8/2018
11.30am
Casey Fields
Melbourne Uni
B: 17. E. Hay, 29. K. Klatt, 6. E. Keaney
HB: 19. L. Ahrens, 31. D. Hardiman, 20. L. Belza
C: 22. D. Edward, 47. E. Humphries, 4. A. Saundry
HF: 1. S. Abbatangelo, 26. C. Greiser, 7. A. Riddell
F: 38. K. Angelis, 9. K. Price, 46. M. Prespakis
R: 8. C. Fitzpatrick, 2. H. Ibrahim, 41. K. Gillespie-Jones
Int: 27. J. Anderson, 3. K. Ashmore, 12. M. Cantwell, 49. L. Haines
Emg: 33. C. Adams, 11. P. Cordes, 43. L. Munday, 24. S. Wilson
23P: 21. R. Webster
Out: E. Kearney,
Casey Demons:
B: 23. G. Gourlay, 18. K. Bentvelzen , 12. G. McLean
HB: 24. D. Guttridge, 1. S. Sloane, 16. C. Sheriff
C: 7. B. Jakobsson, 17. S. Scott, 4. C. Phillips
HF: 10. K. Hore, 11. E. Zanker , 9. A. Johnson
F: 22. J. Allen, 5. T. Mesiti, 8. M. Gay
R: 14. T. Orgill, 20. C. Whitfort, 13. K. Smith
Int: 6. M. Hogg, 15. S. Phillips, 25. M. Shevlin, 2. J. Turner
Emg: 3. R. Clayton, 37. L. Lowerson, 21. S. Poke, 32. M. Tatham
23P: 19. A. Dunn
In: D. Guttridge, S. Poke, J. Turner, L. Lowerson, M. Tatham, A. Dunn
Out: E. Haeusler , A. Newman
Sign up for AFLW updates
Want to stay up-to-date with all things AFLW? Sign up for email updates below.
Having trouble viewing the form? Click here to sign up
(function(t,e,s,n){var o,a,c;t.SMCX=t.SMCX||[],e.getElementById(n)||(o=e.getElementsByTagName(s),a=o[o.length-1],c=e.createElement(s),c.type="text/javascript",c.async=!0,c.id=n,c.src=["https:"===location.protocol?"https://":"http://","widget.surveymonkey.com/collect/website/js/eKb3iPem61YS8_2BgYrQCWkzeBDqAX_2Ff64PQZAxgmqEMel1lGP_2F_2BblpWb_2Fhg5K0arK.js"].join(""),a.parentNode.insertBefore(c,a))})(window,document,"script","smcx-sdk");
The views in this article are those of the author and not necessarily those of the AFL or its clubs