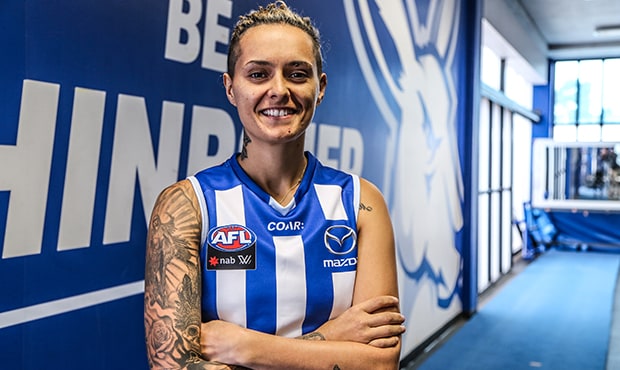 The tribe has spoken, and North Melbourne Tasmanian Kangaroo Mo Hope's 'Survivor' torch has been snuffed out. But in the real world, her flame is a fierce as ever.
Although she was voted off the hit-reality-TV-show much earlier than she would've liked, she got exactly what she was looking for.
"It was the best experience of my life," Hope told North Media.
"I think it puts everything back in perspective. We take a lot for granted and being put on an island where you quite literally have nothing; no food, dirty water (if any), no shelter, no clothes, no shower, no toothbrush … it makes you think.
"This morning for example, I went for a coffee and sat looking at the menu with 100 things on it. On the island you wake up and immediately think, 'what am I going to eat or drink?' and then you get a little rice or a bite of coconut and you are so satisfied. It makes you realise that you don't need those big things, or 100 options for breakfast. You just need to be happy.
"I realized I work too much and since Survivor have definitely taken a step back and tried to focus in on what I really want to do."
Strong willed and a fierce competitor, Hope admits the game won in the end.
"It's all a mental game," she said.
"It will break you. It broke me. Everyone gets to the point on the game, and I mean everyone, where you're just forced to think …"
Here in our conversation, Hope pauses, unable to find the words to describe her breaking point.
"I've lived the last 30 years of my life with a roof over my head, showering every morning, and family around," she continued.
"If I feel upset, I lean on my partner. If I have a question, I call someone. On an island you're not getting any of that."
Hope explained the social isolation and duplicitous nature of the game was intense, on top of physical exhaustion, starvation, and dehydration.
For anyone who watched Hope on the show, her game-play was unique. In a game where lying, backstabbing, and double crossing is encouraged and often rewarded, Hope refused to betray her moral code.
"I was very honest on the show and I definitely wasn't in it to be anything other than who I am and being true to myself and honest to everyone," Hope said.
"I didn't want to come back to Australia and watch it and see myself being fake. I'm always telling people to be real, so I felt that I had to be."
Hope believes her training as an elite athlete was advantageous and the lessons from the show were far greater than she could have imagined.
"I'm used to being on a team and working closely with other people from my time playing footy and AFLW. But I think more of my experience came from my childhood," she said.
"I've also always believed that you can't control a lot of things, but you can control your input.
"Just be you and keep pushing. It doesn't matter what anyone else says. You can be knocked back, but keep pushing and never give up. There are so many things in life you can't control, but what you do and what your actions are, you can control."
One thing Hope couldn't control however, was her health.
"I lost a lot of weight when I was out there. It was really hard to come back after going through all of that and to eat progressively again. I had been deprived for so long that it was really hard to transition back. I definitely still have flashbacks to those moments," Hope admitted.
"I got really sick and I didn't get any doctor treatment. You can't just pop down to the pharmacy to get some meds. It was pretty dire … it definitely breaks you.
"Looking at everything now though, a couple months out, I'm definitely getting back to where I want to be physically and back to a really happy place which is most important."
Sign up for AFLW updates
Want to stay up-to-date with all things AFLW? Sign up for email updates below.
Having trouble viewing the form? Click here to sign up
(function(t,e,s,n){var o,a,c;t.SMCX=t.SMCX||[],e.getElementById(n)||(o=e.getElementsByTagName(s),a=o[o.length-1],c=e.createElement(s),c.type="text/javascript",c.async=!0,c.id=n,c.src=["https:"===location.protocol?"https://":"http://","widget.surveymonkey.com/collect/website/js/eKb3iPem61YS8_2BgYrQCWkzeBDqAX_2Ff64PQZAxgmqEMel1lGP_2F_2BblpWb_2Fhg5K0arK.js"].join(""),a.parentNode.insertBefore(c,a))})(window,document,"script","smcx-sdk");
The views in this article are those of the author and not necessarily those of the AFL or its clubs