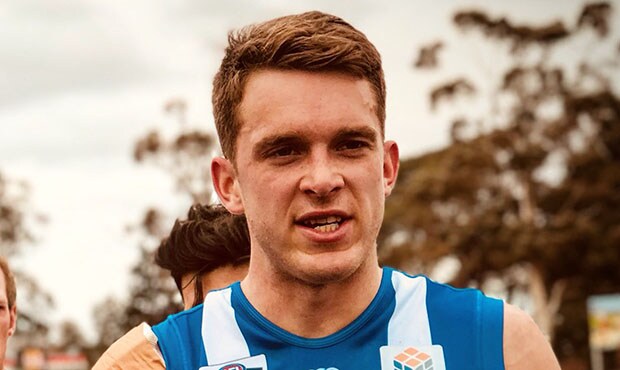 With all good wins comes good individual performances, and in North's VFL win over Footscray on Sunday, there were plenty.
North Media spoke with senior assistant coach Ben Dyer about some of the standout performers.
Luke Davies-Uniacke | 28 disposals | 6 marks | 7 clearances
"He was terrific.
"He really stood up, particularly in the last quarter.
"The Dogs were starting to come a little bit (late), and some of his clearance work was impressive, especially when he came out the front of the stoppage.
"We just got time in forward half because of his work.
"He's really built throughout the year. To a certain extent, the pressure's off in the VFL so he can focus on the things he needs to focus on.
"We've seen a real improvement in the areas he needs to get better at in his past three or four games. It's allowed him to gradually grow in confidence."
Declan Mountford | 20 disposals | 5 tackles | 5 inside 50s
"Again, he was terrific.
"If you're a spectator and you go to the game you wouldn't notice half the stuff he does, because he's so team orientated.
"His tackles are obvious because they save us, but he lays blocks for our inside midfielders, shields other forwards in marking contests and he often runs past guys to be able to tackle and pressure.
"His selfless attitude rubs off on others, because if he does, the others around him need to step up as well.
"He's doing it off a pretty low base given he's missed a lot of footy."
Chris Jansen (VFL-listed) | 25 disposals | 12 tackles | 5 clearances
"His stats are a real indication of his ability to get the ball on the inside and outside.
"They're big tackle numbers and his pressure is strong, but there were pieces of play where he was able to get the ball in the second or third phase on the outside.
"In a game like that, against a team that loves to use the ball by hand and give you a chance to pressure them, it was really important to perform it in both areas."
Nick Larkey | 13 disposals | 7 disposals | 3 goals
"He's really hit his straps lately.
"He missed a couple of set shots that he usually snaffles so his return probably should have been better.
"He's struggled with the Bulldogs' defence in the past, he had a good battle with Lewis Young earlier in the year at Etihad Stadium, but I thought he dominated Young on the weekend.
"He's just gone back to using his running ability.
"He's coming up the ground a little bit higher and that allows him to work back into the space that he's created by doing that.
"When we use the ball as well as we did, it meant that we were able to get the ball to him over the back and in good positions which meant the defence was scrambling.
"He's put a lot of work in over the past couple of weeks and he's really bounced back well."
Individual performances:
Mitch Hibberd | 29 disposals | 10 marks | 5 tackles
Nick Rippon (VFL-listed) | 26 disposals | 6 marks | 3 goals
Matt Northe (VFL-listed) | 20 disposals | 7 tackles | 3 goals
Nash Holmes (VFL-listed) | 18 disposals | 13 tackles | 6 tackles
Louis Cunningham (VFL-listed) | 17 disposals | 10 tackles | 4 rebound 50s
Tom Murphy | 16 disposals | 3 marks | 4 tackles
Billy Hartung | 15 disposals | 3 tackles | 2 goals
Fraser Cameron (VFL-listed) | 15 disposals | 2 marks | 1 tackle
Tyrone Leonardis (VFL-listed) | 12 disposals | 7 marks | 5 inside 50s
Quintin Montanaro (VFL-listed) | 12 disposals | 2 marks | 4 tackles
Kyron Hayden | 11 disposals | 4 marks | 5 tackles
Ben McKay | 9 disposals | 5 marks | 1 rebound 50
Dan Nielson | 9 disposals | 5 marks | 2 tackles
Jordan McIvor-Clark (VFL-listed) | 6 disposals | 1 mark | 4 tackles
Gordon Narrier | 5 disposals | 2 marks | 1 tackle
Tom Jeffries | 5 disposals | 6 tackles | 28 hit-outs
Oscar Junker | 4 disposals | 2 marks | 3 tackles
Lachlan Mirams (VFL-listed) | 1 disposal | 1 mark | 6 hit-outs
The views in this article are those of the author and not necessarily those of the AFL or its clubs