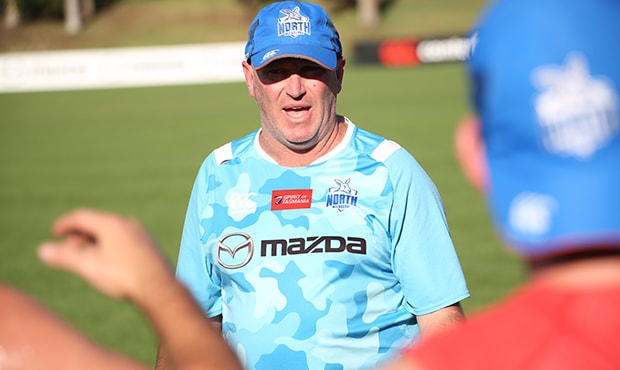 While many sides are tempted to experiment with positions, tactics and players as any season comes to a close, North Melbourne remains firm in its focus – player development.
"We'll have the same aim we've had all season," VFL coach David Loader told North Media.
"That's to get another result and another game with the boys playing the style of football we want to play.
"Each week we get results out of that, nothing really changes with our focus.
"If there's something (in terms of making changes) that benefits players, or benefits us as a club, we'll try that. But that's not because it's the last round for the year, we'll look at that and take it for its merits."
With a bye this week, the Roos will play their final game of the home and away campaign against Werribee in a fortnight.
While finals are still a possibility if other results go the Roos' way, the focus is firmly on improvement.
"We'd love to play finals football, but I don't think that's ever really been our goal," Loader said.
"Our goal has always been to improve and we're seeing that with a lot of listed players, who've had really good seasons. They've been able to improve their footy, which is super important to us."
The Roos' first season as a standalone VFL team has been a memorable one, with the likes of Nick Larkey, Luke Davies-Uniacke and Cameron Zurhaar among those able to develop their game under the same tactical and coaching structure as their more experienced teammates.
Having played the North Melbourne way makes for an easier transition to AFL level, when the opportunity presents.
"Every match we get an opportunity for our young list to go out and work on the parts of our game we want to build on," Loader said.
As the season has gone on, the significance of having a strong VFL-listed contingent has been just as important.
Loader was full of praise for the Roos' young list, highlighting their dedication to the club's overall structure.
"We wouldn't pick guys who we thought weren't committed to the program," he said.
"That's crystal clear at the start of the year as to how we work as an organisation. We selected 24 guys that we had no issue at all with giving us everything we needed, whether they were playing or not.
"We've had a 100 per cent success rate in that category. We had 24 players start the year and we've added one to the list due to a long-term injury. We're going into Round 21 with the same number.
"It's a testament to the players the club and the recruiting staff were able to get. These are guys of the right character, which are going to take us forward and that's crucial.
"Without those guys we fail, there's no doubt about it. The guys have been absolutely amazing this year."
The VFL-listed stars played a key role alongside Davies-Uniacke, Larkey and Declan Mountford in an impressive victory against the Bulldogs on Sunday.
Having lost the teams' earlier meeting in 2018, North bounced back.
"Last time we played the Dogs, we never want to make excuses, but we were down 4-5 players at half-time. We were ahead at half-time but ran out of soldiers in the second half, which limited our ability to compete," Loader added.

"It was great to get one back against them.
"When we beat Box Hill earlier in the year, they had a lot of AFL-listed players in that team too. The boys will take plenty from the game, there's no doubt about it.
"At the end of the day, everyone just looks at the score at the end of the game. We'll now finish up with one each for the year."