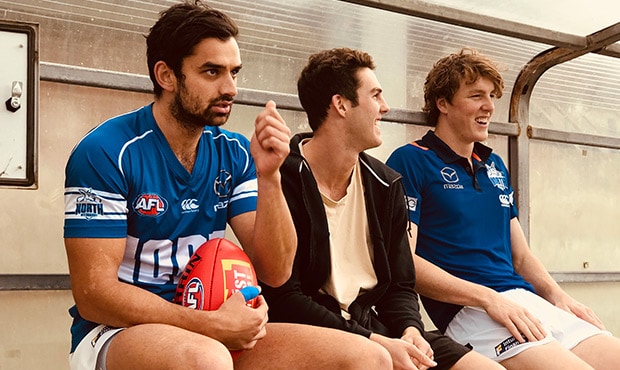 Injury was never going to derail the prospects of Alex Morgan.
The agile defender has impressed since arriving at Arden Street, earning senior selection on the back of a series of impressive performances in the VFL.
After securing a place in North's defensive six at senior level, the 22-year-old sustained a calf injury, which shelved his short-term plans of cementing a place in the Roos' AFL set-up.
But with one game remaining, he's got another chance to prove himself.
"One thing that footballers at any level really enjoy is momentum," Development Manager Ben Dyer told North Media.
"This includes continuity in their footy. When you're going as well as Alex was, to have that interrupted when it did isn't ideal. In this case, at least he's been able to get back and play before the end of the season.
"Hopefully it's not the last game and he can have a couple more to round out his year, which has been positive."
After a swift recovery and successful rehabilitation, Morgan has been able to make a quicker than expected return.
Having shown glimpses of his potential in two appearances at AFL level, Dyer says the improvement in Morgan's game is evident for all to see.
"I thought his AFL games were pretty solid," he explained.
"He was a good contributor, as has been the case with the other guys who have played at AFL level this year. When they do come back, they've got a spring in their step.
"For 'Morgs' I'm sure playing at that level would help his ability to organise and make sure that the structures behind the ball are what they need to be.
"We'd be expecting him to lead the back six on Saturday."
With the season's end fast approaching, Dyer underlined the importance of Morgan continuing his improvement in the royal blue and white, as the Roos' VFL side faces a big task against Werribee.
"Although he'll want to win the game, it's about continuing his improvement," he said.
"When you look at him now, compared to the start of the year, he's come a long way. I think he's added a real offensive element to his game as the year has gone on.
"He's now getting a lot more of the ball and breaking lines for us. His foot skills are pretty good, so he's able to set us up from there. It'll be just a case of continuing what he's shown already.
"I think it's important for him to go about their business as he always does."
Although North's hopes of a finals berth will hinge on favourable results in earlier games, Dyer has urged the emerging Roos to focus on the task at hand.
"In these sorts of situations, you can't really control what's happening outside of our game," he said.
"We've just got to look out for what's got us to this point and continue to do that.
"We'll need to make sure that's the case on Saturday."
Fans are invited to attend Saturday's VFL match against Werribee at Avalon Airport Oval, with the first bounce at 1.00pm.