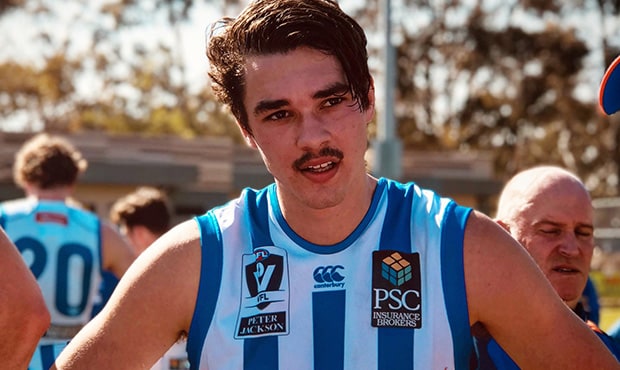 Match result
Werribee 20.12 132 defeats North Melbourne 11.16 82
In action
AFL-listed
Mitch Hibberd (18 disposals, 4 rebound 50s), Nick Larkey (10 disposals, 2 goals), Alex Morgan (14 disposals, 4 rebound 50s), Ben McKay (9 disposals, 8 marks), Dan Nielson (6 disposals, 2 tackles), Braydon Preuss (17 disposals, 50 hit-outs), Josh Williams (11 disposals, 4 tackles), Kyron Hayden (13 disposals, 2 clearances), Tristan Xerri (9 disposals, 15 hit-outs), Tom Murphy (8 disposals, 1 mark), Gordon Narrier (9 disposals, 4 marks), Declan Mountford (12 disposals, 5 tackles), Oscar Junker (5 disposals, 2 marks)
VFL-listed
Nick Rippon (25 disposals, 8 clearances), Ty Leonardis (8 disposals, 3 marks), Jordan Harper (16 disposals, 2 clearances), Nash Holmes (26 disposals, 7 clearances), Chris Jansen (20 disposals, 6 tackles), Louis Cunningham (8 disposals, 2 marks), Nick Hogan (8 disposals, 4 tackles), Matt Northe (17 disposals, 7 marks), Max Hayes (15 disposals, 3 marks), Tarryn Thomas (under 18 player) (7 disposals, 1 goal)
Full player stats available on Monday.
Story of the game
North Melbourne's season ended on Saturday afternoon after falling to Werribee in a high-octane meeting at Avalon Airport Oval.
Entering the game with a slight possibility of earning a finals berth, North travelled to Werribee with intentions of closing out the season proper with premiership points.
An afternoon of high pressure footy ensued as the hosts bid farewell to long-serving coach John Lamont in an emotional afternoon for North's former VFL affiliate.
Werribee stormed out of the blocks, booting two of the first three goals.
A sluggish start ensured that the Roos entered the first break with some work to do, trailing by seven points.
The first-half followed the trend of a shootout as both sides traded goals for the best part of two quarters, although the buffer began to gradually increase as the game wore on.
By the main break, Werribee's lead had extended to 19 points as North struggled to convert forward entries into scoreboard pressure.
Despite having a similar tally for scoring shots, North remained behind due to its inability to convert crucial opportunities to reduce the buffer as Werribee booted eight of the following ten goals leading into the last change.
In the end, a dominant final term from Werribee allowed the home side to farewell their departing coach with a 50-point win.


VFL coach David Loader praised the efforts of his young North side, recapping a season of growth.


"We didn't play very well today unfortunately," Loader told North Media.
"We've had those up and down games during the year and today unfortunately was a down game. Credit to Werribee, they probably outworked us up and down the ground.


"It became a bit of a shootout for a while where the ball was transitioning from either end really easily. We probably couldn't get our defence set in time and we made a lot of skill errors today.
"That's the nature of the beast. If we finish on a loss, we finish on a loss. But it's been more about the other stuff than the wins [and] losses.

"It's been a massive positive for us as a club having the VFL in its inaugural year. We're super pleased that the club has the foresight and to be able to make that happen for our list.

"I think that's the big win of the year. Our AFL-listed players have been able to come back and play in positions in the game-time and all of the variables that are needed to make them successful.
"It's been a great year. Yeah, we'd like to all win more games of footy, but it's been a really good positive year for us as a club and certainly us for a VFL team."
Best of AFL
Ben McKay
Considered unlucky by most to have not featured for North's AFL side this season, it was fitting for McKay to finish his season with another authoritative display.
McKay has earned a reputation as one of the best marks at this level.
This was on display on both sides of the ground, with the 20-year-old even getting on the scoreboard, booting a deserved goal for his efforts in the final term.

Despite missing his first opportunity at goal, McKay made no mistake with his second attempt just minutes later.
"[It was] a positive season, but a disappointing way to finish off for sure," he told told North Media.
"It's nice to have a little bit of versatility, it's always fun going up forward. I get along really well with 'Larks' (Nick Larkey) and 'X' (Tristan Xerri) as well, we work well together.

"I was a little bit nervous after I took that second mark, I thought I'd better play on and make a certainty of it. That first one wasn't too bad, just the wrong side of the stick.

"I've really enjoyed my year down back. It's been definitely the best season of my career."
Loader was full of praise for the emerging key-position player.
"I think Ben is going to be a player that can play at either end of the ground," Loader said.
"He certainly showed how good he can be down back as a key defender this year. That'll build into him being a key forward [and] key defender in stages in his future, I'm sure.


"He's finished his year on a high with a really good block of football."
Best of VFL
Nick Rippon
The hard-working rover has been in the heart of North's engine room all season.
Saturday's effort proved to be a replica of his consistent form in the royal blue and white, as Rippon weaved through traffic with ease, while proving to be a prolific ball-winner yet again.

The 24-year-old, who was the second oldest player on the field, led by example, closing his season in style in multiple roles across the ground.
"He was incredible today, that's nearly as good of a performance I've seen," Loader said.

"Nick's game today was incredible. He kept us in the game early, he had clearance after clearance, he gets forward, he kicks goals, he can play in defence for us. He's a super valuable player for us.

"I know Nick still harbours that want to play footy at a higher level, but that's going to be decisions for someone else other than myself to make.
"He's been such a valuable inclusion into our club this year."
Talking points
Larkey earns accolades
The key-forward's consistency in the VFL has been rewarded.

After leading the VFL goal-kicking charts for the bulk of the season proper, Larkey cemented his place atop of the competition with two goals, earning his first 'Frosty' Miller Medal.
Despite taking a knock early in the game, the 20-year-old worked hard, pushing deeper in an attempt to get his hands on the footy.
"He's had a really good year," Loader said.
"It's a real testament to the work he's put in this year and Nick's constantly developing his game in line with his coaching feedback.
"He's a great kid to work with and real positive for him to finish the way he did."
Preuss' ruck contribution
Braydon Preuss wasted no time reasserting his presence in the ruck.
After withdrawing late due to general soreness in Round 19, the bulldozing big man quickly made amends, dominating the early ruck exchanges against an inexperienced opposite number.


The 23-year-old also provided coverage in defence, where he took several contested marks.
"'Preussy' did some not bad things today," Loader said.
"His ruck work has never been in question. He wins a lot of tap-outs and he's still working on other parts of his game.

"He looked really influential early [and] took a couple of marks down in defence and was probably a little bit sore after half-time, so he didn't have much influence after half-time unfortunately."
Morgan and Mountford lead the way
A host of AFL-listed players took to the field at Avalon Airport Oval, bolstering the Roos in several areas, particular in defence and midfield.


Among the stand-outs was the returning Alex Morgan, who continually broke lines in his first game since successfully rehabbing a calf complaint.
The agile defender provided support for many, including Declan Mountford, who also stood out in a tireless display.
"There were some guys who were better than others, there's no doubt about it," Loader said.
"Alex Morgan played some really good footy in the second half, gave us some real spring off half back [and] 'Dec' Mountford worked tirelessly today.
"He (Morgan) did some great work getting up and supporting around the stoppage and then got hard forward with his mid-forward role. There were a few that certainly put their hand up and were okay."