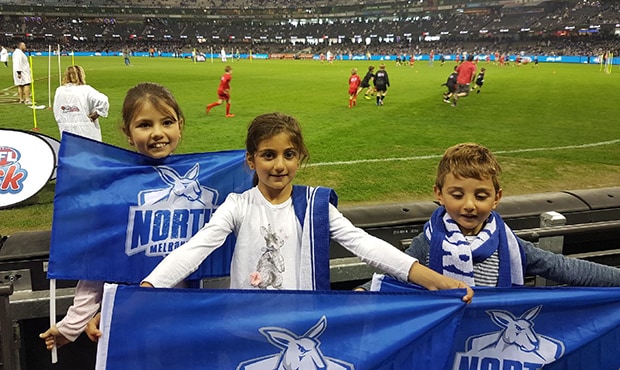 For many North Melbourne players, footy has always been a part of their life.
"I couldn't tell you the first AFL game that I saw live, it was that long ago" star ruckman Todd Goldstein told North media.
"I have memories from the mid 90's of going to the footy ... and I clearly remember being at the Essendon versus Carlton preliminary final in 1999."
Similarly, North defender Jamie Macmillan couldn't pinpoint the exact age he saw his first game.
"I must have been around four-years-old … but it could have been earlier."
For those who didn't grow up with Aussie Rules, getting into the national game can be difficult.
To make the introduction easier, North Melbourne's community arm, The Huddle, hosts six "Huddle Bay" games each season and invites thousands of people along free of charge.
"The area we sat in was full of friendly and welcoming people, a perfect spot for a family or group of friends to watch the footy from," one Huddle Bay attendee told North media.
"I loved every second of the game I went to."
Situated on Level 1 and next to the North Melbourne Cheer Squad, Huddle Bay participants get the full game experience and immerse themselves in all the fun and excitement while feeling safe, welcome, and included.
"The seats were absolutely amazing, and I felt so close to the action that I couldn't take my eyes off of it," another first-gamer said.
"There seemed to be so many people on the field, and I could never quite understand what the umpires were doing."
Over the course of the 2018 season, The Huddle program provided more than 3,000 people from community groups across Victoria and Tasmania access to the Kangaroos' home games.
"We really enjoyed sitting and cheering for North Melbourne, I think it's great that the Huddle Bay ticketing gives young people and community members the opportunity to becomes part of a club and feel that sense of belonging."
The views in this article are those of the author and not necessarily those of the AFL or its clubs