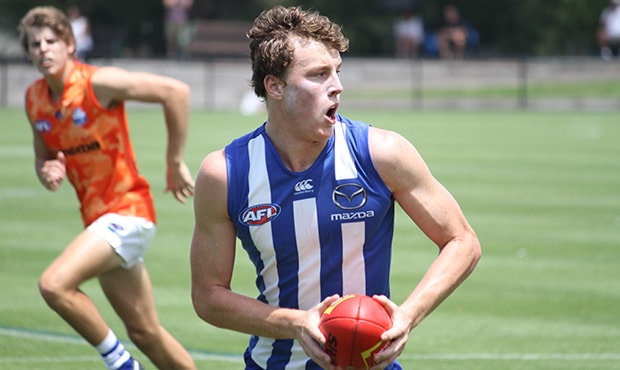 For most, keeping weight off is a struggle, but for young forward Nick Larkey, putting on weight is proving to be a difficult task.
Having just completed his second season at North Melbourne, the 20-year-old has revealed the extent he goes to in order to add to his lean frame.
"It's actually pretty tough to put on weight," Larkey told North Media's In Review podcast.
"It's hard because you'll eat a heap of food but end up burning it off on the track.
"I'm still asking blokes (how to gain weight) because I still feel pretty skinny.
"Jona Segal and all the strength and conditioning guys have been good with that, and I asked our dietitian Lisa Blenheim at the start of the year what my diet should look like, so I try to stick to that and that's all I can do."
The key forward's daily meal plan seems excessive, but is likely to be an important step if he is to break into a well-functioning forwardline.
Larkey's regular day is as follows:
Wake-up
Protein shake
Bowl of cereal
Arrive at the club
Bacon and eggs
Yoghurt
Wrap
Training
Lunch
Yoghurt
Gym
Protein shake
Yoghurt
Can of tuna
Go home
Dinner
Dessert
Protein shake
Sleep
Larkey has already seen results from this strict routine, but admits there's plenty of work to be done.
"I came here at 85 or 86 kilograms, but now I'm at 95 kilograms," he said.
"It's a good weight, but you want to be at that weight that doesn't hamper your ability to run, but still allows you to hold your own in the contest.
"It's about finding that balance."
With the recent retirement of Jarrad Waite, a spot has opened-up in the forwardline for Larkey, who is hopefully of filling the boots left by a player he's modelled his game off.
"I hope I can adopt the role that Waitey played in the team," Larkey said.
"He works hard up and down the ground, so I try and model my game off a combination of Waitey and Benny Brown.
"Browny's aerial work is elite, and the way Waitey works around the ground is elite.
"Hopefully with a good off-season I can do that next year. "
Listen to Nick Larkey's 'In Review' podcast here:
The views in this article are those of the author and not necessarily those of the AFL or its clubs