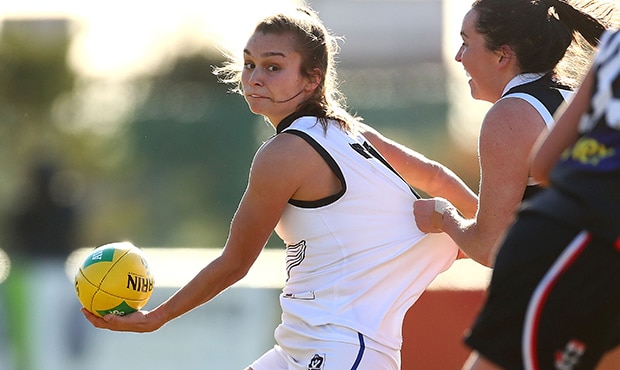 Eight times in the best from just 13 games is no mean feat.
So it's little wonder North Melbourne Tasmanian Kangaroo Ash Riddell is tipped to feature prominently in the votes at the VFLW's night of nights, the Lambert Pearce Medal.
The midfielder has been a star for Melbourne Uni this season, and is sure to be a welcome sight in the royal blue and white in the Roos' inaugural AFLW campaign.
Riddell will be among a number of North players in attendance during Monday night's VFLW Best and Fairest night at Crown Palladium.
Fellow Roos' recruits Jasmine Garner, Jenna Bruton and Jess Duffin are are also in the mix for the league's top honour after outstanding individual seasons.
Melbourne Uni player and North signing Kate Gillespie-Jones has been nominated for the VFLW Team of the Year, alongside Riddell and a host of MUWFC stars, while Madison Prespakis, the potential number one draft pick, is in the running for the VFLW Rising Star Award.
North Melbourne will be providing updates from the night via its @NorthAFLW social media accounts, while the VFL will live stream the event on its website from 7pm on Monday, September 10.
Sign up for AFLW updates
Want to stay up-to-date with all things AFLW? Sign up for email updates below.
Having trouble viewing the form? Click here to sign up
(function(t,e,s,n){var o,a,c;t.SMCX=t.SMCX||[],e.getElementById(n)||(o=e.getElementsByTagName(s),a=o[o.length-1],c=e.createElement(s),c.type="text/javascript",c.async=!0,c.id=n,c.src=["https:"===location.protocol?"https://":"http://","widget.surveymonkey.com/collect/website/js/eKb3iPem61YS8_2BgYrQCWkzeBDqAX_2Ff64PQZAxgmqEMel1lGP_2F_2BblpWb_2Fhg5K0arK.js"].join(""),a.parentNode.insertBefore(c,a))})(window,document,"script","smcx-sdk");