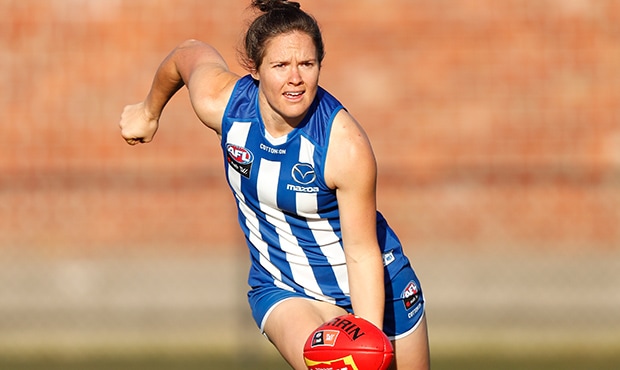 Star recruit Emma Kearney has embraced the AFLW's new conference structure, saying things are 'moving in the right direction'.
"It's a very exciting result for not only us players but for the competition," Kearney told North Media.
"I think the new structure will allow for a more competitive landscape, similar to the way in which the AFL is fixtured."
The North Melbourne Tasmanian Kangaroos' team is set for its inaugural season in 2019, joining in revamped fixture which will see two conferences of five teams.
Each team will play each other once within the conference, before three games against opponents from the other conference in a 'weighted' arrangement.
According to AFL.com.au, the format will allow for one of the three so-called 'crossover' games to be based on a rivalry.
The season will also feature two weeks of finals, with the Grand Final to be held on the last weekend of March, coinciding with round two of the AFL season.
"I think we're all happy the season hasn't shortened," Kearney said.
"We train so hard and are doing a lot of work to try and build on the competition, and I think we are moving in the right direction to achieve that.
"Having a preliminary final just adds another layer of excitement to the competition ... and who doesn't love a finals series?"
The Preliminary Final will be hosted by the team that finishes on top of the ladder, with the Grand Final home team determined by the side with the most wins for the season, or if required, percentage.
"We certainly hope we can go all the way this year and it would be incredible to have the opportunity to host a final, if not both of them," Kearney added.