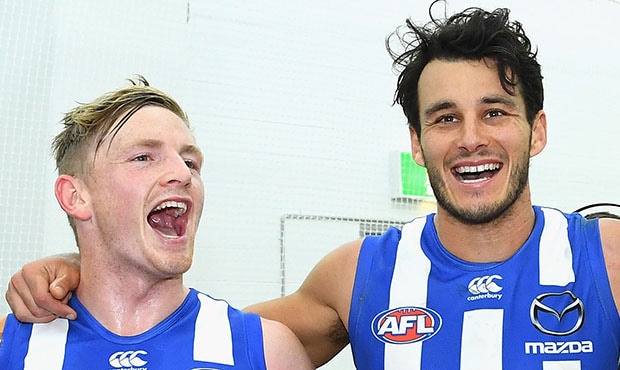 When it comes to living the values of a 'Shinboner', not many come close to Jack Ziebell.
A broken collarbone, cracked ribs and a broken toe were just some of the injuries the North skipper endured, and played through, in 2017.
Now, Ziebell's remarkable courage is rubbing off on his teammates.
"'Ziebs' led the way last year playing through injuries way worse than my little cut," Robbie Tarrant told North Media's In Review podcast.
"I don't think anyone will do what he did again."
Tarrant suffered a leg injury in the Round 21 clash against the Western Bulldogs, but was never going to miss the Roos' final two games.
"I just landed on a boot and it was just in a bad spot," he said.
"It cut my knee open, and because you're bending your knee all the time it was splitting, so our awesome doctors stitched it up and I just had to keep it straight for a few days then I was good to go.
"I needed to keep it as straight as I could for as long as I could to give it the time to heal.
"You don't train much during the week, so you just try to get as much touch as possible then hopefully it's healed enough and you can play.
"I've missed enough games through injury, so I want to give myself the best chance to play as many as I can."
Tarrant said the courage of some experienced teammates inspired the playing group.
"Ziebs set the standard, Scott Thompson's another one, same with Ben Cunnington.
"There are young guys doing it as well, so it's not just the older guys.
"Everyone's got little niggles every now and then, but you've just got to keep fronting up.
"I don't think being in the leadership group makes (the need to play) any more important, I think you just want to be out there."
The key-defender had another terrific season, playing 21 games and averaging over six marks and 16 disposals a game.
Listen to Robbie Tarrant's full 'In Review' podcast here:
The views in this article are those of the author and not necessarily those of the AFL or its clubs