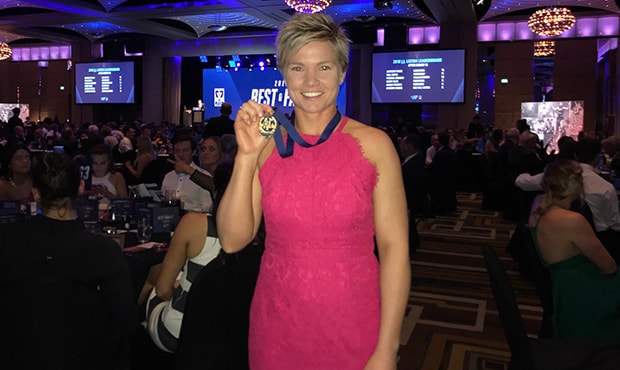 North Melbourne Tasmanian Kangaroos' recruit Jess Duffin has been rewarded for her impressive VFLW season, winning the 2018 Lambert-Pearce Medal for the league's best and fairest player.
Having played for Williamstown this season, Duffin polled 23 votes from her 13 games, leaving her six clear of her nearest competitor.
"This means a lot," Duffin said at the VFL Best and Fairest night on Monday.
"You work really hard as a footballer and you don't want any personal accolades, it's more about the team, but when something like this comes up, I'm quite proud of where I've come from and what I've had to do.
"Juggling two sports isn't easy, and not only Cricket Australia, but the two clubs I've been at in Collingwood and now North Melbourne, have been really helpful in allowing me to do that.
"I'm really shocked, but I'm really happy to be standing up here."
Duffin led the count from rounds six to 12, before trailing by a single vote after Round 13.
However, a trifecta of best-on-ground performances gave the 29-year-old an unassailable lead heading into the final round.
The utility's three-vote performances included:
Round 1 - 22 disposals | 8 marks | 1 goal
Round 4 - 33 disposals | 6 marks | 5 tackles | 1 goal
Round 14 - 30 disposals | 1 goal
Round 15 - 28 disposals | 11 tackles
Round 16 - 18 disposals | 6 marks | 3 goals
The medal wasn't the only accolade Duffin received on the night, with the ball-winner named captain of the 2018 VFLW Team of the Year.
"It's a real privilege to be named as captain in a side like that." she said.
The Lambert-Pearce Medallist was one of five future Roos named in the side.
Melbourne University's Kate Gillespie-Jones and Ash Riddell were selected, while Alison Drennan and Jasmine Garner, who play for St Kilda and Williamstown in the VFL respectively, were also acknowledged.
Muggars captain Ash Riddell polled well on the night, finishing in a tie for sixth with 14 votes.
Riddell's teammate, Madison Prespakis, was shortlisted for the Debbie Lee Medal for the best Under-24 player.
The views in this article are those of the author and not necessarily those of the AFL or its clubs