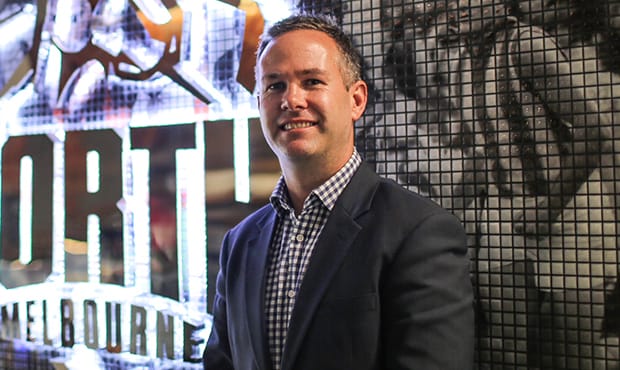 North Melbourne GM of community engagement, Cameron McLeod, has won the Graeme Samuel Scholarship for 2018.
Awarded by the AFL, the scholarship identifies emerging leaders and strong new talent within the administration of the game and works to assist career advancement.
The recipient receives $20,000 towards a study course to further develop their career.
McLeod has been recognised for his leadership among the wider community, particularly for his work with North's not-for-profit community arm, The Huddle, over the past three years.
More than 60,000 young people have engaged with The Huddle, which provides a range of initiatives to enhance young people's skills, increase their ability to participate in society while also addressing the causes of disengagement among young people.
With previous experience in cricket and community football, McLeod continues to inspire social cohesion within the community and sporting industry.
The Huddle's growth has been a testament to McLeod's on-going work, designed to create a sense of belonging for young people, across Victoria and Tasmania.
"In a world class industry, to be recognised with this award is incredibly humbling and I am privileged the AFL has given me the opportunity to further my studies," McLeod told AFL.
"To be given the opportunity to travel for self-improvement and learn how to scale my work to individual communities and deepen the impact programs can have on social inclusion is an exciting prospect and one that I am looking forward to in the coming months."
The scholarship is named after former AFL Commissioner Graeme Samuel, who was a member of the original VFL Commission appointed by the clubs in 1984 and who served as a Commissioner until his retirement in June 2003.
The views in this article are those of the author and not necessarily those of the AFL or its clubs