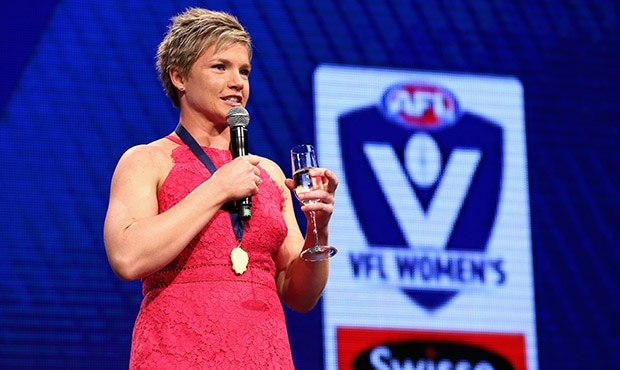 For our female stars, time off can be hard as the VFLW season dominates the winter, and the AFLW campaign the summer.
The chance to reset and refresh is even more difficult for North Melbourne Tasmanian Kangaroos' recruit Jess Duffin, as she prepares to swap the Sherrin for the ball and bat with Queensland and the Melbourne Renegades in the Women's National Championship League and Women's Big Bash League.
"The WNCL season starts in two weeks, so I'll prepare myself up in Brisbane then fly in and out till Big Bash, then I'll play with the Renegades," Duffin told AFL.com.au.
"It'll be similar to last year, just with this WNCL chunk that I haven't played before.
"I'm looking forward to it, but it'll certainly be busy."
2018 has already been a whirlwind for Duffin, who on Monday night claimed the Lambert-Pearce Medal for the VFLW best and fairest player, and was named captain of the VFLW Team of the Year.
Despite playing much of her football this winter as a midfielder, the 29-year-old has proven to be an impactful utility in the AFLW.
"I'm happy playing anywhere, to be honest. I did enjoy being in the middle of the ground and being in our centre group," Duffin said.
"But I can see why Collingwood put me back last season and why North Melbourne will probably do the same thing."
With the pre-season training block set to start early November, Duffin's footy focus is fixed on the Roos' debut season.
"I'm looking forward to playing (her new teammates), but Kaitlyn Ashmore especially. She's elite," Duffin said.
"Emma Kearney is someone I've had a history with through cricket, and I've had to play against her in football and sometimes that's not nice, so I'm happy to play with her."
The views in this article are those of the author and not necessarily those of the AFL or its clubs