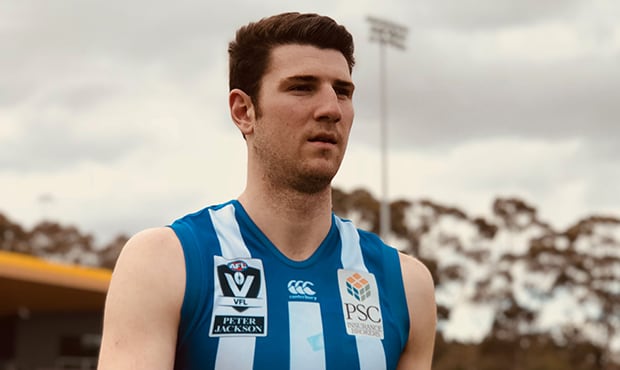 With North's 2018 season complete, North Media analyses the performance of each player by using statistics, a coach review and season highlights. Next up is the VFL-listed Ty Leonardis.
Leonardis' season
Silky left-footer Ty Leonardis proved to be a handy recruit in his first season for North Melbourne's VFL side.
Despite having a plethora of experience as a winger, the 21-year-old enjoyed an outstanding season in North's defensive six, after a series of untimely injuries forced the recruit to play an unfamiliar role.
Boasting a cool head and excellent decision-making skills, Leonardis developed into a crucial member of North's defensive structure, hitting targets with regularity while offering versatility as a penetrating rebound defender.
Leonardis' experience in the AFL system allowed the polished youngster to play roles across several areas of the ground.
Statistics
VFL
Games: 14
Disposals: 185 (13.2 average)
Season highlights
Round 13 v Coburg: 18 disposals, 3 marks
Round 17 v Collingwood: 21 disposals, 2 marks, 4 tackles
What he said
On playing a role in North' defensive six
"I never thought I'd be playing in a deeper role. I've usually played a lot of my footy on the wing or at half back, but here I've played pretty much everywhere.
"I think be flexible with my role wherever I'm playing, especially it's down back, I need to play well.
"I think in the start of the year, I wasn't where I wanted to be. I now want to show some consistency."
What the coach said – David Loader
"Ty was really interesting. Obviously coming from an AFL background, this was a little foreign to him in the setup and that sort of stuff.
"He slotted in and took a little bit of time to get his head around the game-plan, but he's a super exciting player with the ball in hand.
"I think he's going to improve greatly over the next 12 months."
In the news
"The silky recruit, who spent two years in Sydney with the Swans, has provided versatility in a number of positions for the royal blue and white this season." – Read more
On social
Q3 - Ty Leonardis shows off his fancy footwork, side-stepping away from a tackle and spinning into space! #BeAShinboner

— North Melbourne VFL (@NorthVFL) August 25, 2018
Q4 - Ty Leonardis dribbles the ball with expert precision by hand, despite three trailing defenders. His quick thinking enables him to set-up Nick Larkey on the wing #BeAShinboner

— North Melbourne VFL (@NorthVFL) July 22, 2018
Q4 - Ty Leonardis goes from scorer to provider, setting up Nick Larkey. Our leading goal scorer continues to make the most out of difficult opportunities on tight angles. North leads 92-36 #BeAShinboner

— North Melbourne VFL (@NorthVFL) July 1, 2018
The views in this article are those of the author and not necessarily those of the AFL or its clubs