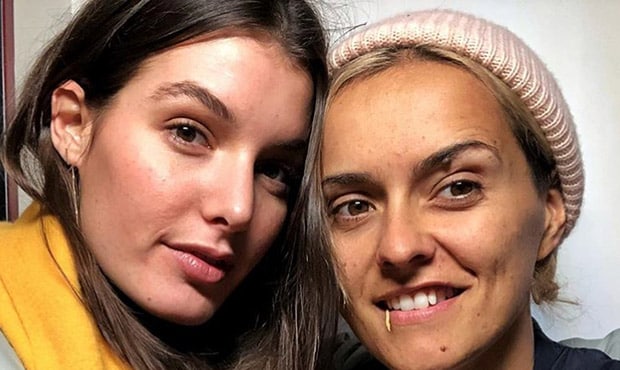 While Moana Hope has her eyes on a premiership with North Melbourne, her biggest desire in life is to marry and begin a family with her girlfriend, Isabella Carlstrom.
Hope said the couple have been together for two years and are more than ready to take the next step.
"My greatest dream in life is to have a family, and who better to have a family with?
"It's just going to be very us, I'll walk down the aisle with my mum and she'll do the same with her dad."
Carlstrom, a model, revealed it could all happen as soon as next year.
"I've never really fantasised about a wedding or getting married, but with Mo I want it all," she said.
"I'll be getting my brother as a bridesmaid, we'll be breaking all the rules. No dresses, just friends and family, we want to share it with them."
The couple is already searching for a sperm donor and the hope is to have more than one child.
"I plan to play footy for another 10 years because I love football, so a couple from Bell (Isabella) and I'll definitely be having one too. I can't wait to have a child myself," Hope said.
After a difficult year on Collingwood's list, Hope left the Pies and has started afresh with the Kangaroos for her third AFLW season.
"I was injured for the first year of AFLW and the second year was mentally more of a depression, so Bell has had to deal with both sides of it," Hope told the Herald Sun.
"For her, last year, there was a lot of holding me in her arms while I'm in tears or me calling her on the way to training with anxiety and her saying, 'you can do this, just go and train'."
"It was a collective of things. I play football because I love it and then you get put into this environment, and people treat you differently and make it like they own you and you will do this and nothing else.
"The media only see one side of it. I was getting smashed left and right but nobody knew what was really going on and nobody knew or really understood maybe I was getting told to play a certain way, maybe that was the instructions I was given."
After signing with North Melbourne, things have changed for the better.
"I've felt that hug of love both off and on the field and I can say that's the first time I've felt that hug of love from a football club. I know this year is going to be a lot different," she said.
The views in this article are those of the author and not necessarily those of the AFL or its clubs