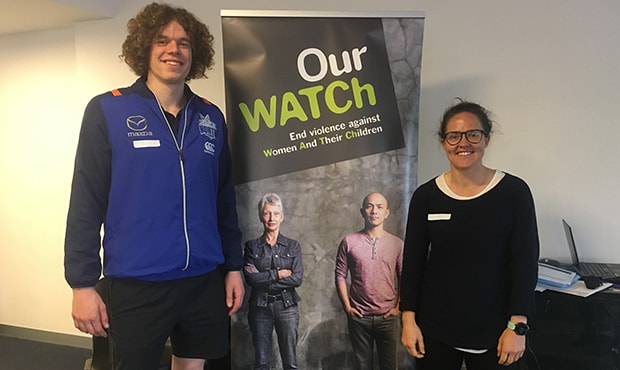 The footy season may be over, and while many footballers are taking the time to soak up some rays in Bali or relaxing at home, Emma Kearney and Ben Brown are using the time slightly differently.
Last week the duo attended "Change the Story Through Sport", a training session run by Our Watch which focused on teaching the key drivers of violence against women and children, and how sport (and various codes such as AFL) can help positively change the narrative.
The four key drivers of violence were recognised as condoning of violence against women, men's control of decision making and limits to a women's independence, stereotyped constructions of masculinity and femininity, and disrespect towards women and male peer relations that emphasise aggression.
While both Brown and Kearney are no strangers to the work of Our Watch and the gender equality space, the training session was invaluable.
"Going to trainings such as this are always helpful," Kearney told North Media.
"I think that the more we can do to change the narrative and decrease violence against women and children, the better."
Brown echoed her thoughts.
"As elite athletes we are very lucky to have a platform to discuss issues we care about, and to try and make a difference," he said.
"I hope that I can use my time in the game to affect positive change. The training was enlightening and thought provoking, and I'm very thankful to Our Watch for involving myself, as well as my wife, Hester."
Other attendees came from various sporting codes, including football, rugby (league and union), swimming, and golf.
The views in this article are those of the author and not necessarily those of the AFL or its clubs