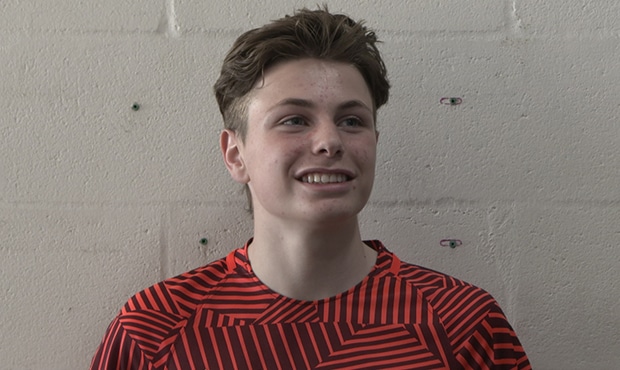 Fourteen-year-old Connor Scanlon proved that you don't need to be an AFL player, or even an adult, to be kicking big goals.
What started out as a school project turned into a fundraiser, in which he raised more than $600 dollars to be donated to North's not-for-profit community arm, The Huddle.
After reviewing the community work of other AFL clubs, Scanlon felt it was an easy decision to link to North.
"We had to do a school project about something that we're passionate about," Scanlon told North Media.
"AFL is my passion so I looked into the community side of AFL and I connected most with The Huddle. I really appreciate what they're doing.
"The Scanlon Foundation is also a part of the Huddle, which is my surname, so an extra connection there," he joked.
"For every dollar donated I would kick one goal, so by the end of my fundraiser I had raised $615 for The Huddle and kicked 615 goals over the period of six weeks."
Both Emma Kearney and Ben Brown came out to thank him for his generous donation.
"The Huddle is a great organization and for a 14-year-old kid to make a big donation, it's pretty inspiring," Kearney said.
"Most teenagers are trying to figure their own lives out, never mind also trying to support other people. The Huddle does amazing work in the community and for a fourteen-year-old kid like Connor, this is fantastic."
As a thank you, Kearney presented the inspiring young man with a team signed guernsey as well as a 2019 membership.
Ben Brown was similarly impressed with Scanlon's donation, and when asked if he had any tips to help with Scanlon's goal kicking, could only laugh.
"Normally I tell people that repetition is key," Brown told Scanlon.
"But seeing that you've spent the past bunch of weekends kicking a hundred goals, it seems like you're on the right track."
Scanlon's inspiring donation, a testament to the power of our young people who are already out doing great work in the community.
The views in this article are those of the author and not necessarily those of the AFL or its clubs