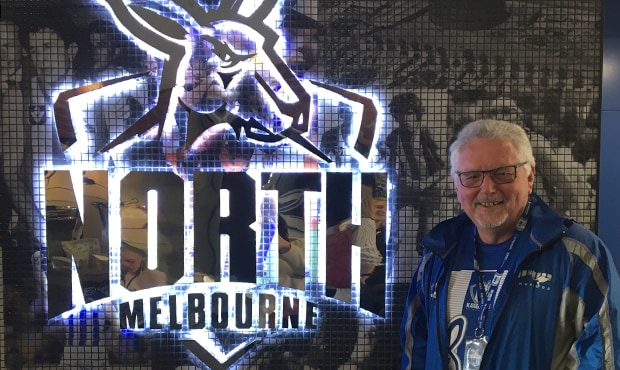 Trying to decide which 'Aussie Rules' club to support can be a daunting task, just ask Alaskan native, Howard Napartaq.
For many Australians their team is usually inherited; passed down through generations, but if you have to choose there's a lot to weigh up.
"I knew that I had to give my devotion to a team, but it couldn't just be any team," Napartaq told North Media.
"I had to do some research and what happened was I really connected with the way that North Melbourne functioned."
Napartaq has been religiously following AFL from the United States for more than thirty years and fell in love with the game by chance.
"I was browsing through the TV channels when I was visiting family in California when I stumbled upon an ESPN broadcast of the Essendon v Hawthorn Grand Final in the early 1980's," Napartaq explained.
"I was instantly hooked. The enthusiasm of the crowd was contagious. I had no idea what was going on or what the game was or any of the rules, but I was rapt with the pace of the game.
"After that first game, I told myself 'alright, that's it. I don't know anything about this game but I'm hooked and I want to learn more.'"
Although Alaska is more than 12,000 kilometres from Melbourne, Napartaq's obsession with the game brought him over the Pacific.
"After listening to AFL from the states on the radio, I decided that I had to come down to Melbourne and get the full experience," he said.
"It was my first time in Australia and I planned it so I could go for two weekends, and watch four games each weekend."
With his expectations high, Napartaq was blown away.
"Watching it live was even more amazing. The energy, the pace, the athleticism… I was captivated," he recalled.
That's when he realised he had a big decision to make; picking a team.
"It was clear that North Melbourne was a club of integrity," he explained.
"The more I learned, the more I was hooked on North. I really thought, 'now here is a club I can stand for'.
"They carry themselves with grace, and they may be understated and a smaller membership, but everyone loves a good underdog.
"I was so impressed when I learned they don't do pokies … to be able to stand against that easy form of revenue really impressed me. If there was ever a, 'family values' club, it is surely North Melbourne.
"I guess when I think of North, all I think about is the word 'integrity.'"
Every few years Napartaq makes his way back to Melbourne, and estimates he has seen 40 to 50 games in person.
"It hit the point where I figured I had to put my money where my mouth was and become a member … even though I wouldn't make it to nearly any games," he laughed.
The views in this article are those of the author and not necessarily those of the AFL or its clubs