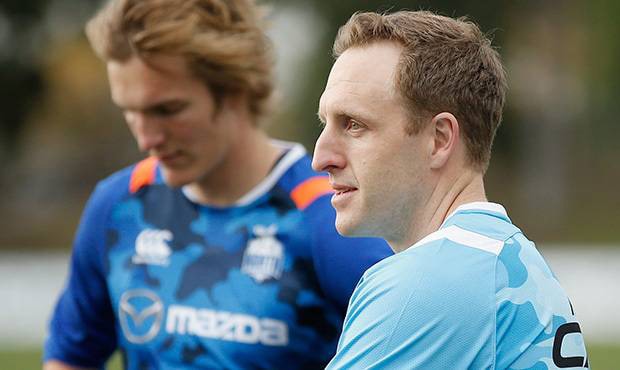 Having spent the past five years with the likes of LeBron James and Kevin Love at the Cleveland Cavaliers, North Melbourne's new High Performance Manager, Alex Moore knows what it takes to be the best.
"It's the combination of extreme talent and having the work ethic and commitment to do that," he told North Media.
"It's a 24/7 commitment … Those guys want to be the best and they want to be the greatest, and they'll do anything it takes to be that."
Moore says he's more than happy to pass on the basketball superstars' secrets to success, but adds nothing compares to pure, hard work.
"It is a really big investment, and that's something that I can impart on the players here," he said.
"It's not just turning up to the club for four hours a day, it's everything you do outside of that and your commitment to that which makes you better as a person and adds to the collective as a group."
Despite only meeting a handful of players after his first month at Arden St, North's latest off-field recruit is already impressed.
"There's been 20 guys in the gym every day and they don't even need to be here," Moore revealed.
"I really like that direction that the team's going in … I'm looking forward to working with a young, up-and-coming team.
"I've been with an old team at its peak in the past and that's been fun, but it's going to be a good challenge to develop a really young team."
2019 will be Moore's first AFL pre-season in almost 11 years after working with Brad Scott at the Brisbane Lions.
"I'm not looking to make really big wholesale changes to what we're doing, but just continuing and adding a few little pieces that will help the team get better," Moore told North Media.
"There's four or five little things that I can do to improve the team."
Moore promotes the importance of individual training programs.
"The most important thing is having an athlete-centred program, so that we look after the athletes and make sure we care about them, and we do exactly what's right for them," he said.
"I definitely come from a philosophy that we need to treat every person as an individual, so rather than training the team as a group and giving them group programs, we have a really individual approach to it.
"So if it's Ben Brown and Jack Ziebell, they may have vastly different programs depending on their goals and what we're trying to achieve with them."
Away from the training track and the gym, Moore hopes to put a large emphasis on preparation and recovery to ensure the entire list can overcome hurdles such as travel and short breaks.
"It's a big thing that we did in basketball," he said.
"Managing sleep, managing travel, managing when we practice, managing when buses go to games, when we leave and what we do after games.
"I think that's a big piece that I can bring with my experience I've had with such an extreme schedule like the NBA."
Listen to Alex Moore's full interview here:
The views in this article are those of the author and not necessarily those of the AFL or its clubs