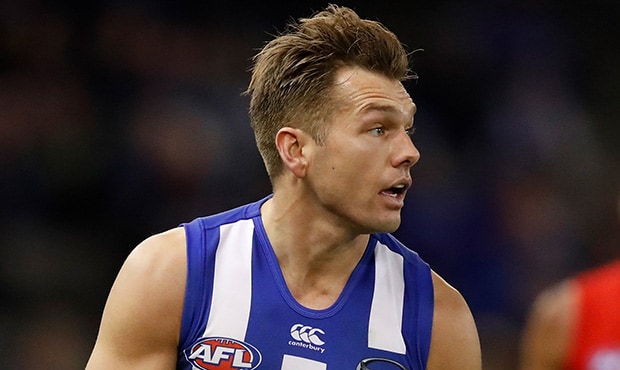 Star midfielder Shaun Higgins has given his support to North Melbourne's pursuit of elite talent in the NAB AFL Draft period.
"I'm all for the club looking to bring in the best players possible, and sometimes it happens and sometimes it doesn't," Higgins told NAB Trade Radio.
"Luckily for us it's gone our way this week and we have been able to bring some talent in."
Higgins is excited about the prospect of Port Adelaide pair Jared Polec and Jasper Pittard, who were traded to the club on Wednesday.
"The club has done well already in finding players that fill a need for us.
"(Jared) Polec is one of the best wingmen in the competition, and he will clearly fill an important role on the outside for us.
"He uses the ball well, he breaks lines and he has spent time in the midfield for Port as well.
"Jasper (Pittard) will offer us some run off half-back which is something I think we can work on.
North's number 4 is also looking forward to what the Roos' latest signing, Dom Tyson, will bring to the midfield group.
"Dom Tyson is the most recent one, and he adds to what Scotty (Brad Scott) has been saying for the last 12-24 months, which is that we need to build a really deep midfield to compete with the very best.
"I think Dom will go a long way to giving us that depth that we need."
Another deal that Higgins hopes to see done is the recruitment of Aaron Hall from Gold Coast.
"Hally (Aaron Hall) has made it clear he wants to make the move so we are hoping that gets facilitated.
"We've seen over a number of years how good is he offensively.
"He's good with the ball, he's powerful, he's explosive, and he's clearly a match-winner.
"He has played off half-forward and half-back so he brings versatility and again goes towards building that midfield depth."
And although disappointed with North missing out on recruiting All Australian wingman Andrew Gaff, Higgins understands Gaff had an unusually tough decision.
"He made it pretty well known the whole time that had a lot of things to weigh up.
"It was unusual circumstances for him with everything going on, on and off the field, so you have to respect the decision he made in waiting until after the season was done.
"We would have loved for Andrew to have made the move, but we wish him all the best at West Coast.
In between keeping up with all the latest trade week news, Higgins has been keeping busy by taking a group of younger players to Byron Bay for an off-season "mini-camp.
"We started the mini-camps last year, little breaks in our off-season, to help get back into the swing of it.
"I put my hand up to go away with some of the younger guys this year and we took our fitness coach (Jona Segal) up there as well.
"It's pretty casual but it does get us into the swing of things, and it gives those younger guys a bit of a kick start ahead of their return to training in two or three weeks time.
"The guys that came along this year were Luke Davies-Uniacke, Jy Simpkin, Trent Dumont, Taylor Garner and Ryan Clarke, who has obviously since moved on to the Swans."
Listen to the full interview below.
The views in this article are those of the author and not necessarily those of the AFL or its clubs