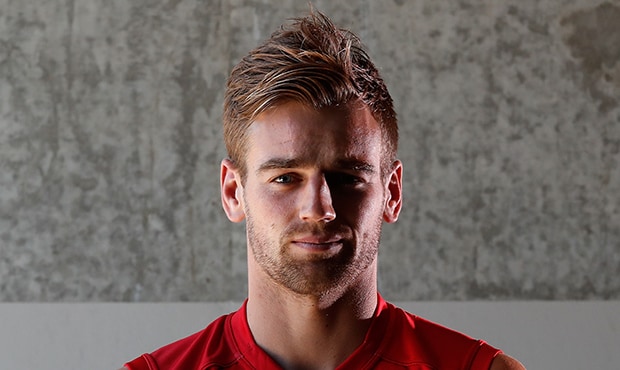 The chance to spend more time as an inside midfielder and learn from some of the game's most impactful on-ballers is what attracted Dom Tyson most to North Melbourne.
The former Demon was traded to Arden St on Friday morning for ruckman Braydon Preuss and pick 62, and believes the move can catapult him back to his best.
"I'm very excited to join North Melbourne," Tyson told North Media from his holiday destination, New York.
"I feel like I play my best footy as an inside mid, but I certainly have the ability to go out to a wing as well.
"This year at Melbourne, my opportunities to play inside were limited, so part of what made me want to come to North was that role of playing as an inside-mid more often."
Drafted with pick 3 in the 2011 National Draft, the 25-year-old has gone toe-to-toe with the likes of Shaun Higgins and Ben Cunnington on countless occasions, and knows the class the North midfield possesses.
"From the outside looking in, North's always been a tough team to beat," Tyson said.
"They really play to the line and seem like a good, mature, low fuss side. They've got a really good mix and balance through the middle. Some good inside players, some guys that can play inside and outside, and some guys that can go forward and kick a few goals as well.
"I'm happy to come in and try and contribute to the mix, but I'm certainly keen to learn some things from the older boys as well."
The midfielder finished second in Melbourne's 2014 best and fairest award, and knows his best his good enough to make an impact at the highest level.
"I've got to settle in quick and just get myself in good form," he said.
"I need to train well throughout the preseason and stay healthy. I need to listen to the coaches and be really clear about what they want me to do and I feel like I've played enough good footy to know what my good footy looks like, so I'm confident I'll be able to bring that to North next year and many more after that."
The views in this article are those of the author and not necessarily those of the AFL or its clubs