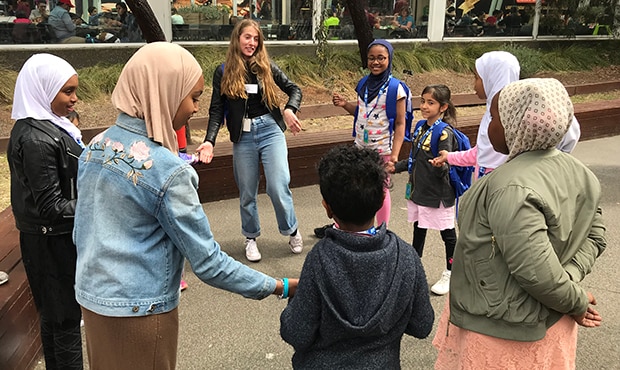 The smile on an eight-year old girl's face, upon learning women could be fire fighters, was invaluable.
This heart-warming moment was just one of many during the week-long Huddle spring school holiday program.
100 children and parents attended the family day picnic at Wingate Estate, where they interacted with emergency services officers, played basketball, soccer, tennis, bubbles, and enjoyed many giveaways.
"It was so great to see the kids get out and enjoy themselves in the sun," Andrea Fitzgerald, Head of Volunteers at The Huddle, told North Media.
"There were seven families and over a dozen kids who had never been to The Huddle before, but came out and gave it a shot and had a great time.
"It was so great seeing the kids get out of their comfort zones, and watching the amazing connections between Emma Kearney and the kids, and how excited they would all get."
The wider program saw nearly 40 kids participate in various free events from ice skating, visiting the zoo, seeing the city from new heights on the Melbourne Star and hopping around at a Bounce Party.
Designed for eight-to-twelve-year-olds, the program was a testament to the strength of the community.
"It was also a huge community effort. Victoria Police provided a bus and officer for one of the days, North staff and volunteers helped, the Metropolitan Fire Brigade provided their firefighters, trucks, and hoses, Errol Street Bakers Delight provided free bread and Wingate Community Centre some staff," Fitzgerald added.
"Getting the opportunity to bring our diverse communities together in this way is incredible. Between our amazing volunteers, the kids, and the families, it was a fantastic two weeks."
The views in this article are those of the author and not necessarily those of the AFL or its clubs