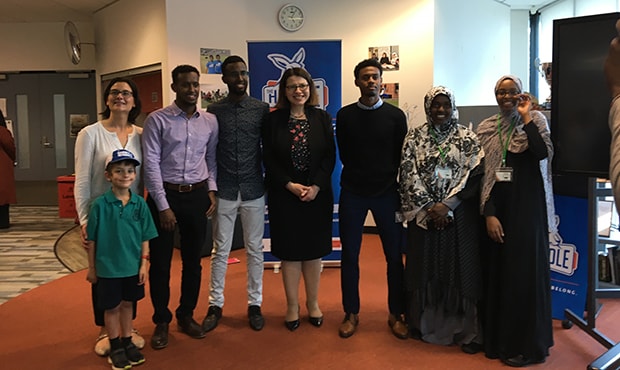 North Melbourne's not-for-profit community arm, The Huddle, will look to further strengthen its award-winning work, after receiving a $500,000 investment for a Community Support Group.
Minister for Youth Affairs, Jenny Mikakos, announced the funding on Wednesday, which will see a range of co-designed activities aimed to strengthen youth engagement and help build healthy, connected communities.
The Huddle, alongside the local Somali and African communities, will oversee the operation of the Community Support Programs in North Melbourne, Flemington, Kensington, Ascot Vale, West Melbourne and throughout the City of Wyndham.
Financial literacy and coding classes, school holiday programs, major sporting and cultural events, leadership programs, career planning workshops and women's sport and recreation programs are among the activities to be provided through the program at a range of locations including schools, places of worship and community centres.
The Huddle will add new African leaders to their expanding workforce to identify other activities and services of benefit for children, young people, women, parents and families.
Since its establishment in 2010, The Huddle has engaged more than 60,000 young people form diverse communities in the areas of sports and recreation, education and careers, civic participation and digital literacy.
North GM of community engagement, Cameron McLeod, said he is thrilled with the opportunity to further engage with the community.
"We're excited to oversee the delivery of the Community Support Groups in the broader North Melbourne and Wyndham regions and believe programs like these will help empower local Somali communities amongst other African communities," McLeod said.
"Our focus is providing the right support for children, young people and their families to build their confidence, connect them with services and highlight opportunities for them in the Victorian community."
The Minister highlighted the importance of young people in our communities.
"It's really important that we have young people who aspire to achieve great things," Ms. Mikakos said.
"I've already met some young people here today who you should be so incredibly proud of. They are doing wonderful things in our communities, our city, and our state, and we want to make sure that all young people have these opportunities and the opportunity to succeed."
The views in this article are those of the author and not necessarily those of the AFL or its clubs