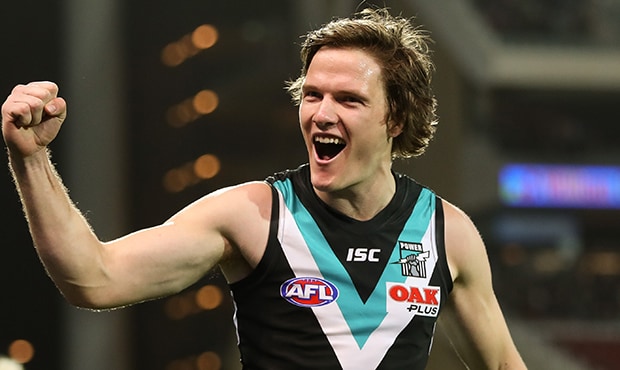 In: Aaron Hall, Jasper Pittard, Jared Polec, Dom Tyson, picks 47, 48, 49, 55
Out: Ryan Clarke, Braydon Preuss, picks 11, 31, 62, 68, 2019 fourth-round pick
Win: A host of players who could, and probably will, all slot into North's best team
Lose: Early picks in this year's draft and ruck depth
2018 draft picks: 42, 47, 48, 49, 55, 58, 86
What couldn't they get done? The Roos' big-money play for West Coast free agent Andrew Gaff fell agonisingly short, while they made a similarly bold but unsuccessful bid for emerging Magpie star Jordan De Goey earlier in the year. It continued North's run of near-misses with big-name players but the Roos' football director Glenn Archer vowed on Wednesday that they would continue to aggressively chase top-end talent.
Verdict: Although missing Gaff was a huge disappointment, the Roos have had a good Trade Period. They addressed their biggest deficiency, adding class and line-breaking run with the additions of Jared Polec – the jewel in their haul – Aaron Hall and Jasper Pittard. Former Demon Dom Tyson will also bolster North's already strong group of inside mids, while the late pick swap with Fremantle leaves them well placed, with 1677 draft points, to match bids for Tasmanian academy member Tarryn Thomas and father-son prospects Bailey Scott and Joel Crocker. - Nick Bowen
Rating: 7.5/10
In: Shane McAdam, Tyson Stengle, pick 13, 2019 fifth-round pick

Out: Mitch McGovern, pick 40, 2019 third-round pick, 2019 fourth-round pick

Win: Strengthening draft hand while adding pace in the forward line

Lose: A quality forward who can be a match-winner

2018 draft picks: 8, 13, 16, 21, 73, 83
What couldn't they get done? Started the window with their first selection two spots ahead of the Power and finished three spots behind. Getting in first will be crucial with SA guns Jack Lukosius and Izak Rankine looming in the top five. Sniffed around for a ruckman but wasn't able to land a suitable trade, while holding onto Mitch McGovern never seemed a possibility.
Verdict: A big win in the Mitch McGovern trade, bringing in pick 13 and securing SANFL talent Shane McAdam – seen by many as an early second-round selection. Identified a need with South Australian small forward Tyson Stengle and gave up very little. Still in a position to bundle a number of selection to get the Suns talking on picks two or three. - Mitch Cleary
Rating: 7/10
In: Marcus Adams, Lincoln McCarthy, Lachie Neale, picks 18, 30, 35, 56, 78, 2019 first-round pick, 2019 second-round pick, 2019 third-round pick
Out: Dayne Beams, Sam Mayes, picks 5, 24, 43, 62, 80, 2019 first-round pick
Win: An absolute star midfielder and another couple of potential guns, if they can get fit
Lose: An absolute star midfielder
2018 draft picks: 18, 30, 35, 56, 78
What couldn't they get done? The Lions were linked with free agent Mitch Wallis before he re-signed with the Bulldogs, but hit all of their targets during the Trade Period.
Verdict: The Lions had to work hard to get their No.1 target, Lachie Neale, but will be thrilled to welcome the dual Fremantle best and fairest winner to the Gabba. Although his addition is off-set somewhat by Dayne Beams' departure, Neale, 25, is three years younger than the former Lions captain, while Brisbane exacted two first-round picks in return for releasing Beams from the final two years of his contract. Former Bulldogs key defender Marcus Adams and ex-Cat small forward Lincoln McCarthy shape as handy additions if they can get their bodies right. - Nick Bowen
Rating: 8/10
In: Mitch McGovern, Alex Fasolo, Will Setterfield, Nic Newman, pick 71, 2019 third-round pick
Out: Picks 26, 28, 43, 2019 fourth-round pick, 2019 fifth-round pick
Win: Senior experience added to a young forward line
Lose: A lot of draft depth, with not many picks after their first selection
2018 draft picks: 1, 69, 71, 77
What couldn't they get done? The Blues flew Dylan Shiel to Noosa on a private jet as part of their unsuccessful recruiting pitch. They tried to re-enter negotiations in the final hour – and were reportedly willing to offer a future first-round pick – as Essendon struggled to complete the deal. Had a nibble at Andrew Gaff and Jeremy McGovern during the year, too.
Verdict: Missing out on Shiel was a disappointment, but they secured a key forward (McGovern), the No.5 pick from 2016 (Will Setterfield), a free agent with upside (Alex Fasolo) and a reliable defender (Nic Newman). Who won the McGovern trade is up for debate, but Carlton needed experience and a better target in attack and delivered on that front. Setterfield might be the best of the lot. The Blues are still open to shopping the No.1 pick – effectively Sam Walsh – for the right deal and their current next selection isn't until 69, which isn't ideal. But ultimately their list will be stronger in 2019 and that represents a tick. - Marc McGowan
Rating: 7.5/10
In: Picks 41, 44, 57, Dayne Beams, Jordan Roughead
Out: Alex Fasolo, picks 18, 56, 75, 2019 first-round pick
Win: A matchwinning, goalkicking midfielder, a versatile, experienced big man, and likely enough draft points to secure an Academy star and a father-son prospect
Lose: An out-of-sorts goalsneak and their first pick in each of the next two drafts
2018 draft picks: 41, 44, 51, 56, 57, 93
What couldn't they get done? Tom Lynch and Steven May would have made a big difference to the Pies' stocks at either end, but each chose rival clubs. How much they will regret missing out on that pair remains to be seen. Their smaller forward line worked magnificently in 2018 and the defence held up despite a bevy of injuries.
Verdict: One of the hardest clubs to rate from the Trade Period. Every club would love to add Beams into their midfield, but did the Pies really need him – and especially at that price? Roughead was originally linked to West Coast, but Collingwood's interest in him spiked towards the end of last week and he can play a role in defence and the ruck, if required. The ex-Bulldog's not in May's class, but the Magpies needed more height in the backline, so mission accomplished. Some of their best work came in re-signing Darcy Moore and Tom Langdon, who both at least considered a move to the Harbour City. Fasolo had fallen well out of favour. - Marc McGowan
Rating: 7/10
In: Dylan Shiel, 2019 second-round pick, 2019 fourth-round pick
Out: Travis Colyer, pick 9, 2019 first-round pick
Win: A classy left-footed midfielder in his prime
Lose: Pacy outside runner and their first pick in each of the next two drafts
2018 draft picks: 34, 66, 84
What couldn't they get done? The Bombers aimed far and wide in 2018 to bolster their midfield. Throughout the year they circled Andrew Gaff, Mitch Wallis and Tom Scully, while in the Trade Period Carlton beat them in the race for GWS youngster Will Setterfield and their efforts to convince Gold Coast to release contracted midfielder Jack Martin were rebuffed. The Dons were also linked to Gold Coast key defender Steven May.
Verdict: Having won the four-club race for GWS midfield star Dylan Shiel, the Bombers averted a potential disaster when they finally completed a trade just 10 minutes before the 8.30pm trade deadline. The Dons paid a high price, having to give up two first-round picks as part of the deal, but Shiel was not the most sought-after midfielder in this year's Trade Period for no reason. A prolific ball-winner and damaging runner, he will immediately strengthen an Essendon on-ball division that shaped as the one weak spot on the club's list. The Shiel acquisition is enough on its own to make the Bombers' Trade Period a huge success. - Nick Bowen
Rating: 8.5/10
In: Travis Colyer, Reece Conca, Jesse Hogan, Rory Lobb, picks 14, 31, 43, 65
Out: Lachie Neale, pick 6, 2019 third-round pick, 2019 fourth-round pick
Win: Bolstered firepower with marking targets

Lose: Second-best player and valued leader
2018 draft picks: 14, 31, 43, 65, 81
What couldn't they get done? Holding onto Lachie Neale was always going to be tough while bringing in Jesse Hogan and Rory Lobb at the same time. Wanted Tim Kelly but were never granted a conversation, while the chase for defender Tom Langdon fell short as he decided to stay a Pie.
Verdict: New head of football Peter Bell replaced one feather with two feathers in his cap. On day one of the NAB AFL Trade Period, Bell said it would be a "feather in my cap" to retain Neale. While the dual best and fairest departed, the Dockers were able to land Hogan and Lobb while moving back from pick five to 14 and gaining a valuable second-round pick. The decision to send a press release all but calling off the Hogan pursuit might need a re-think into the future. However, a deal was struck and they also added a best-22 Tiger and Travis Colyer for next to nothing. - Mitch Cleary
Rating: 8/10
In: Luke Dahlhaus, Nathan Kreuger, Gary Rohan, picks 59, 70
Out: Lincoln McCarthy, George Horlin-Smith, Jackson Thurlow, picks 54, 57
Win: More depth added to a quality, but light, midfield
Lose: A good clubman in George Horlin-Smith
2018 draft picks: 12, 50, 59, 60, 70, 87
What couldn't they get done? Pushed, begged and pleaded for a future first-round pick for Tim Kelly but were unable to get the Eagles talking.Had offered Lincoln McCarthy a one-year contract but weren't too fazed to gift him a fresh start at the Lions. Still had a toe in the water for Saints gun Jack Steven but were told on multiple occasions it was never going to be entertained.
Verdict: Demanded the farm for Kelly, weren't offered it but ultimately retained one of the best first-year player in the competition. While the Cats will lose Kelly in 12 months' time, keeping him on a base salary while in the finals race will prove good business for 2019. Luke Dahlhaus cost nothing, and along with Gary Rohan, provides speed to a side that lacked serious forward pressure in 2018. Were able to hold onto pick 11, giving Stephen Wells only his second first-round draft pick in the past five seasons. - Mitch Cleary
Rating: 7/10
In: Corey Ellis, Anthony Miles, George Horlin-Smith, Jack Hombsch, picks 3, 6, 24, 79, 2019 first-round pick, 2019 third-round pick, 2019 third-round pick
Out: Tom Lynch, Steven May, Kade Kolodjashnij, Aaron Hall, Jack Scrimshaw, picks 19, 32, 41, 44, 59, 68, 77, 2019 second-round pick, 2019 third-round pick, 2019 third-round pick, 2019 fourth-round pick, 2019 fourth-round pick
Win: Depth players who can run through the midfield
Lose: Both of their 2018 co-captains, who are also their two best players
2018 draft picks: 2, 3, 6, 24, 29, 80
What couldn't they get done? Failing to convince Lynch to stay was the first domino that led to May also departing. Ultimately, the co-captains' departure is what will be remembered about this Trade Period. Dom Tyson was briefly floated, but the former Demon didn't want to leave Victoria again.
Verdict: As above, losing co-captains and star bookends Lynch and May was a sledgehammer result to their fortunes. There is no spinning that into a positive. The Suns were happy to move on Scrimshaw, Hall and Kolodjashnij and didn't get much in return. What Gold Coast did do well out of a bad situation was load up on attractive draft picks – and now have three inside the top six – on top of bringing in seven players. Solid citizens Ellis, Miles, Horlin-Smith and Hombsch loom as senior regulars, while mature-age assistance picks Corbett, Burgess and Collins could also make an immediate impact. - Marc McGowan
Rating: 6/10
In: Picks 9, 11, 19, 2019 first-round pick, 2019 fourth-round pick, 2019 fourth-round pick
Out: Rory Lobb, Tom Scully, Will Setterfield, Dylan Shiel, picks 14, 47, 71, 2019 second-round pick
Win: Nabbing picks 9 and 11 is huge, and four picks inside the top 25 is a great result. The departure of four players also helps the squeeze on the club's salary cap
Lose: With highly influential players from their best 18 and a quality midfielder of the future going out the door, the Giants' depth takes a hit again
2018 draft picks: 9, 11, 19, 25, 52, 89
What couldn't they get done? The Giants weren't looking to get any rival players in as they scrambled to get money off their books to ease a suffocating salary cap squeeze. They actively shopped key forward Jonathon Patton to rival clubs, but couldn't get anyone to take on his annual salary of about $600,000, while contracted defender Jeremy Finlayson was also unsuccessfully put on the trade table.
Verdict: The Giants entered the Trade Period in a no-win position as they had to shave at least $1.5 million off their salary cap. That reality meant they lost two of their best midfielders, Dylan Shiel and Tom Scully, their No.1 ruckman, Rory Lobb, and 2016's No.5 draft pick, Will Setterfield. The Giants also made the best of a bad situation, most notably calling Essendon's bluff to get two first-round draft picks for Shiel, while the call to part with Scully was also a calculated one given the serious concerns over his injured ankle. GWS's strategy was also aimed at putting itself in a stronger position to re-sign stars such as Josh Kelly, Stephen Coniglio and Nick Haynes, who come out of contract at the end of next year. - Nick Bowen
Rating: 5/10
In: Jack Scrimshaw, Tom Scully, Chad Wingard, 2019 third-round pick, 2019 fourth-round pick
Out: Ryan Burton, Taylor Duryea, picks 15, 35, 2019 third-round pick, 2019 fourth-round pick
Win: Adding a dual All Australian, a gun outside runner and a former top-10 pick
Lose: Parting ways with a 21-year-old defender capable of playing 200 games
2018 draft picks: 53, 90
What couldn't they get done? Plenty. Going right back to Rory Sloane and continuing with Tom Lynch, Dylan Shiel and Steven May. The Hawks were on the end of rare criticism for a quiet start to the Trade Period, but roared home to again be a big player.
Verdict: Sold the farm for Wingard, including fan favourite Burton and this year's first-round pick, but the dual All Australian has the potential, at age 25, to be a top-10 player in the competition. His relationship with new coach Alastair Clarkson might be the key to him returning to his previous heights. The Scully acquisition seems daylight robbery on the surface, but there is mystery around whether his ankle will ever be the same. If he gets back to his gut-busting best then the 2009 No.1 selection is the Trade Period's biggest bargain.Scrimshaw, the No.7 choice in 2016, looms as Grant Birchall's successor and may even slot into Burton's old role, but he, too, comes with baggage. Duryea was a great clubman and dual premiership player, but can be covered. - Marc McGowan
Rating: 8/10
In: Steven May, Kade Kolodjashnij, Braydon Preuss, picks 23, 28, 62
Out: Dean Kent, Dom Tyson, Jesse Hogan, picks 6, 36, 46, 65
Win: A star defender to help a light backline
Lose: A gun young key forward who wanted a return home to Western Australia
2018 draft picks: 23, 28, 54, 62, 91
What couldn't they get done? Coveted free agent Andrew Gaff was on the Demons' radar earlier in the season, but they pulled out of that race long ago. The only other thing you could argue they missed out on was their original demand of multiple first-round picks for Jesse Hogan.
Verdict: The Demons significantly bolstered their defence via former Suns co-captain Steven May, but did so by sending spearhead Hogan to Fremantle. The Hogan deal stalled last Friday when new Dockers football boss Peter Bell briefly withdrew his club from negotiations – and Melbourne's eventual return was only fair. But the No.6 pick unlocked the May deal, which also brought with it another Sun, Kade Kolodjashnij, the fifth selection in 2013. The Braydon Preuss addition provides badly needed ruck depth behind Max Gawn. Re-signing Aaron vandenBerg against rival interest was a win, too. On the flipside, the Dees lost midfield depth with Dom Tyson's departure – although he had slipped way down the pecking order – and injury-prone forward Dean Kent showed ability at times. - Marc McGowan
Rating: 8/10
In: Ryan Burton, Scott Lycett, Sam Mayes, picks 5, 15, 2019 fourth-round pick, 2019 fourth-round pick, 2019 fourth-round pick
Out: Jack Hombsch, Jasper Pittard, Jared Polec, Chad Wingard, picks 23, 30, 48, 49, 2019 third-round pick
Win: Snared a top-five pick, and three in the first 15, in a bumper crop of SA talent
Lose: A couple of match-winners in Wingard and Polec
2018 draft picks: 5, 10, 15, 85
What couldn't they get done? While keeping Chad Wingard would've helped their chances in 2019, as every moment of the period ticked by, it became clearer he wasn't going to be staying. Keeping Jared Polec was never in the equation as he accepted a lucrative offer at North Melbourne. Grabbing one of Gold Coast's picks two or three would've been ideal, but they still have a month to get it done before the NAB AFL Draft.
Verdict: Started with picks 9, 21 and 27 and finish with picks 5, 10 and 15 to target homegrown SA talent.Parting with two potential match-winners in Wingard and Polec hurts their outside class but clearing both opens up room in the cap for 2019. Gaining local Ryan Burton, pick 15 and 35 for Wingard alone is a tick. Jack Hombsch and Jasper Pittard depart as depth players, but both were told at season's end they'd be in a fight for a place in the best 22. The arrival of Scott Lycett on a $3 million deal fills a requirement, allowing Paddy Ryder to spend more time in attack. - Mitch Cleary
Rating: 7/10
In: Tom Lynch, picks 64, 68, 2019 third-round pick
Out: Reece Conca, Corey Ellis, Sam Lloyd, Anthony Miles, Tyson Stengle, 2019 third-round pick
Win: When he's firing, one of the best key forwards in the game
Lose: Depth – injuries weren't a problem in 2018 but they better not be in 2019
2018 draft picks: 17, 37, 64, 68, 74, 92
What couldn't they get done? After putting all their eggs in the Tom Lynch basket, the Tigers didn't have cap room to chase anyone else. Signing the star spearhead also meant they had to wave goodbye to a raft of depth players – Reece Conca, Sam Lloyd, Tyson Stengle, Anthony Miles and Corey Ellis – which could hurt them next season.
Verdict: In beating Collingwood and Hawthorn to Tom Lynch's signature, the Tigers picked up this year's best free agent. The 2016 All Australian spearhead has been restricted by injury over the past two seasons but if he can get back to his best, he and Jack Riewoldt will form the most dangerous one-two punch in the competition. Fears Lynch's addition could ruin the small forward-line formula the Tigers have used so effectively over the past two years also appear unfounded given Lynch's ability to roam up the ground if required. It's far more likely he will make Richmond an even more potent and versatile outfit. - Nick Bowen
Rating: 8.5/10
In: Dan Hannebery, Dean Kent, picks 36, 46, 2019 fourth-round pick
Out: Tom Hickey, picks 61, 65, 2019 second-round pick, 2019 fourth-round pick
Win: Picks in the middle of the draft and a couple of players who the jury is out on, but could be important
Lose: Ruck depth
2018 draft picks: 4, 36, 46, 67, 79
What couldn't they get done? The Saints' huge offer wasn't enough to convince ex-Giant Dylan Shiel to make Moorabbin his new home, while Tom Scully and his management didn't contemplate them as a suitor. They were in the queue, like many clubs, for Andrew Gaff earlier in the season.
Verdict: Underwhelming incomings on paper, but the Saints are punting on Dan Hannebery and Dean Kent shaking body-related issues to be bargains in 2019 and beyond.Hannebery is a triple All Australian, but fell away alarmingly in the past two years, particularly in 2018. St Kilda secured itself a beauty if he bounces back, but the five-year deal on big money raised eyebrows. Kent brings speed and goalkicking prowess and generally performs when he's played, but he made four, six and five appearances in 2015, 2017 and 2018, respectively. The Saints retain negotiating power with pick four, which may tempt the South Australian clubs. Tom Hickey's departure presents Billy Longer with the opportunity to cement himself as the club's No.1 ruckman. - Marc McGowan
Rating: 6/10
In: Ryan Clarke, Jackson Thurlow, picks 26, 39, 40, 2019 second-round pick, 2019 fourth-round pick

Out: Dan Hannebery, Gary Rohan, Nic Newman, picks 13, 70
Win: The departure of Hannebery and Rohan makes for some significant salary cap space
Lose: Experience and particularly in the case of Hannebery, on-field leadership
2018 draft picks: 26, 33, 38, 39, 40, 88
What couldn't they get done? Targeted a key defender and signalled an intent for midfield class and were left with little in return. Tom Langdon turned his back on a four-year offer to re-sign with the Pies for three years, while the Swans were unable to meet the request for Darcy Moore. Went after out-of-contract Demon Aaron vandenBerg before he turned his back on a move to be with family in Sydney to stay at Melbourne.
Verdict: Cleared more than $1 million next season with the departures of Dan Hannebery and Gary Rohan alone. The Swans will back in their impressive record of turning around recycled players to get the best out of Ryan Clarke and Jackson Thurlow. Parting with pick 13 meant little as they've been able to bank four second-round picks to match an early bid for Academy prospect Nick Blakey. Put a big watch on the Swans for 2019 with plenty of room to move in the salary cap. - Mitch Cleary
Rating: 5.5/10
In: Tom Hickey, pick 61, 2019 fourth-round pick
Out: Scott Lycett, pick 39, 2019 fourth-round pick
Win: Replaced a premiership ruckman with a similar big man

Lose: Failed in a trade for Geelong onballer Tim Kelly
2018 draft picks: 20, 22, 61, 72, 76, 94
What couldn't they get done? Tim Kelly remains a Cat after the Eagles refused to offer more than picks 20, 22 and a future second-round selection. List manager Brady Rawlings said they'll be back in 12 months trying to get the deal done when Kelly falls out of contract. The Eagles met with Rory Lobb before he decided to move to the Dockers on a better deal and also did a backflip on Jordan Roughead after showing significant interest in the back-end of the season.
Verdict: Andrew Gaff's recommitment on the eve of the Trade Period meant anything else was a bonus. Missed on Kelly but retained the 'farm' the Cats were asking for in return. Tom Hickey's acquisition fills a need with Scott Lycett departing and Nic Naitanui injured for a season. Opted not to match a bid for Scott Lycett and were left with picks 20 and 22 they can take to the draft. - Mitch Cleary
Rating: 8/10
In: Taylor Duryea, Sam Lloyd, picks 27, 32, 75, 2019 third-round pick
Out: Marcus Adams, Luke Dahlhaus, Jordan Roughead, pick 64, 2019 fourth-round pick
Win: Two flexible runners from premiership-winning clubs and better draft positioning
Lose: Two premiership players and a fullback who would have been one if he hadn't been injured
2018 draft picks: 7, 27, 32, 45, 63, 75, 82
What couldn't they get done? The Dogs missed their No.1 target in the Trade Period, dual All Australian forward Chad Wingard, and were then content to hang on to their prized No.7 pick despite approaches from rival clubs.
Verdict: It was a relatively quiet Trade Period for the Bulldogs after Wingard nominated Hawthorn as his preferred new home. Former Richmond forward Sam Lloyd and dual Hawthorn premiership defender Taylor Duryea shape as handy additions, while their experience will be valuable given the Bulldogs' young list. Losing contracted defender Marcus Adams was a blow, but the Dogs could scarcely have hoped for more than the pick No.32 and future second-round pick (Gold Coast) they got from Brisbane in return. They were happy to facilitate Jordan Roughead's move to Collingwood for a late pick. - Nick Bowen
Rating: 6.5/10