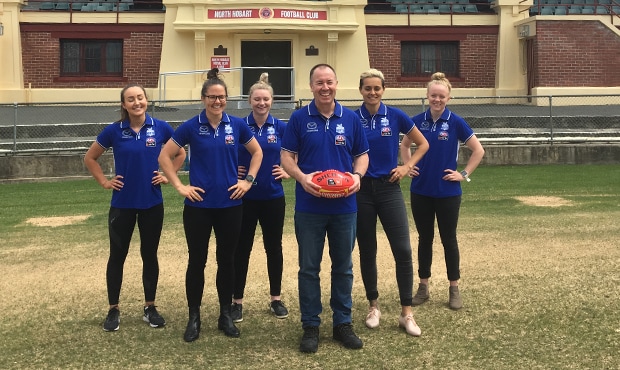 Traveling early might sound tough so some, but for North Melbourne Tasmanian Kangaroos coach, Scott Gowans, it's good to get it out of the way.
"We are pretty happy with how the fixture has landed," Gowans told media at North Hobart Oval, where the team will play Carlton in Round 1.
"It's good to travel early, as we do in the first three rounds, then have a set period in Melbourne, the travel again for Fremantle in the last game."
Gowans is excited about the prospect of playing at North Hobart Oval, a venue he thinks will create plenty of entertainment for fans.
"At a stadium like this (North Hobart Oval), it allows the scoring to be higher, which will create more excitement not only for the players but for the fans as well."
Gowans is confident that the Round 1 clash will draw a big crowd, with plenty of interest in his team coming from Tasmania as well as Victoria.
"There seems to a lot of interest from what I have seen and heard," he said.
"Our players are very interactive on social media, and I'm confident we can get a capacity crowd here, which would be great."
Although the Roos have attracted plenty of plaudits for the talented list they have built ahead of their first season in the AFLW, Gowans warned that a large portion of his list haven't played at the top level before, an issue opponents Carlton won't have.
"The overall list build was an interesting exercise," he said.
"We are very happy with the list we have put together, but when you look at it, 50 per cent of the girls haven't played an AFLW game before.
"When you add in the cameras and crowd noise and all of those factors, it's still an unknown how they will handle it.
"Coming up against Carlton, a lot of their list will have played AFLW before, but we've just got to cope with that and come up with strategies to impact straight away."
Gowans' focus ahead of Round 1 is on how his talented team will work together.
"The big thing for us is connection," he said.
"If the players connect with us, and with each other, they will connect with the fans and create that sense of belonging, which is what North Melbourne is all about."
In a somewhat unique situation, the North will play each of their seven fixtures at seven different grounds.
But Gowans isn't fazed, and is looking forward to playing at Marvel Stadium as a part of a blockbuster, double-header in Round 6
"It's interesting when you look at the grounds we play at," he said.
"Playing at Marvel Stadium is obviously exciting for all of the reasons that come with playing there, but it is some concern with the ground size, making it hard to attack and defend as we would like."
The views in this article are those of the author and not necessarily those of the AFL or its clubs